Do you like using THREADMILL?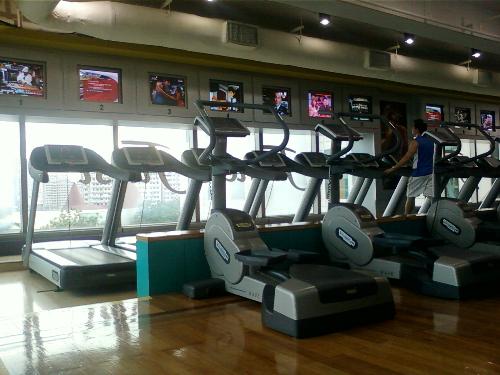 Pasay, Philippines
September 5, 2010 4:58am CST
How much do you like using threadmill? Do you have your own or are using that in gyms? How do you monitor your calories lost when you are using threadmill? Why do you like to use it? Are you hardworking enough when using this threadmill? Honestly in my case I am really lazy using this exercise tool just because you will only walk and run to the extent that it does not have any other extra ordinary variations. I would really want to do the group exercise that I really enjoy where I could learn a lot of variation like in dancing and in Body Combat. Other than that I am totally enjoyed joining the cycling session as well.
5 responses

• Philippines
8 Sep 10
I don't use threadmill or any gym equipment. That's just not my thing. But if I'd have a physical fitness activity, I'd love to enroll in dancesport class! =)

• Pasay, Philippines
8 Sep 10
Where did you enroll the dancesport class?

• Philippines
9 Sep 10
I haven't enrolled yet. Maybe when I'm done with my wisdom tooth problem. Hehe... I haven't found a good place that offers dancesport.

• Czech Republic
9 Sep 10
No, I hate it. Even when it's raining, I'd prefer to run outside rather than on tredmill. I can run an hour on tredmill without a problem but I get all worked out if I run outside for 20 minutes. It's totally different experience

• Pasay, Philippines
9 Sep 10
I haven't experience that though I could really imagine which is better because it is important that you are outside your house to feel the air. Plus you don't need to consume for electricity.

• Philippines
5 Sep 10
I use to love group exercises too until my vertigo. I could not spin anymore and so I took to the machines. I love the treadmills in my gym because there is cable there. So while I walk and run, I watch my favorite shows. I like to incline the treadmill to challenge me.

• Pasay, Philippines
6 Sep 10
Unfortunately I am not bringing my headphone with me that is why I wasn't able to watch TV though when I was in Slimmer's World they have this TV also on treadmill sometimes I am watching the comedy show.

• United States
5 Sep 10
I have a treadmill and yeah there are times when I don't want to run on it but I need to run on it so I can stay healthy. I usually do three hours on the treadmill when I don't have work or school but then there are times when I have both school and work and I can't run on it because I don't want to make noises for the neighbors that live underneath us. But when I'm on the treadmill I love using it because It's actually the only time now that I get to read for pleasure and listen to music because the rest of the time I'm reading books for school and doing work.

• Pasay, Philippines
6 Sep 10
Good thing that you really like to use treadmill. I just hope I will be like yours that would appreciate in using it.


• Philippines
5 Sep 10

Hello metatronik. I have a very old fashioned and busted electrical treadmill. it's still works even though the rubber is a bit crappy and almost torn. i wanted to learn other things, but i just don't have the money right now.



• Pasay, Philippines
6 Sep 10
What you mean to learn other things? What kind? Since my membership in fitness is gone then I hope my Mom will buy the Wii because I believe that is a good exercise as well. There are other things you can do if you are not yet member of gym. The options you can do is the Yoga, aerobics just like dancing hip hop, body combat or if you want search something on youtube about the tutorials in exercise routines even the martial arts if you are only interested. Other than that you can also buy the big ball (the soft one that you can sit, I just don't know the name) because you can actually do something on it on your abs with the dumbbells then find tutorial of it as well.