if the suspect has the right to deny an accusation?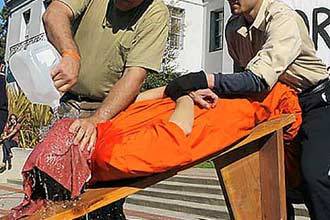 Indonesia
September 13, 2010 3:19am CST
sometimes in an examination of a suspect, investigators often do violence, both physical and non physical, just to get a confession from the suspect. in your opinion, how the pattern of handling an investigation if the suspect has the right to deny an accusation?
3 responses

• Philippines
13 Sep 10
the suspect has their every right to deny accusations because they are not yet proven guilty. investigators are not in anyway allowed to do violence to the suspect. they were called investigators because their job is to investigate, there would be other ways to prove the suspect guilty. There are witnesses, the crime scene, there are also lawyers and attorneys who should work on their interrogation so no violence is needed.

• Indonesia
16 Sep 10
yes, ideally it like that. However, in practice, intimidation often found and many investigators do that, just because they do not want to bother collecting the evidence

• Garden Grove, California
13 Sep 10
hi advokatku here in the UG a suspect has the right to deny an accusation as here the person is deemed non guilty until he is proven guilty in a court tf law. The suspect is not to be beaten or coerced into saying he is guilty whenthe court has proven him innocent of the charges.




• Indonesia
16 Sep 10
in the literature many investigations in several countries, was mentioned ban an investigator to violence, physical or not physical against a suspect. But in a lot of practice, it is mostly done by investigators with reasons the suspect complicate her investigation

• Pasay, Philippines
13 Sep 10
I don't think it is right to do violence against the suspect as the suspect have already did the violation and violence as well so how come the investigator will do the same thing? All they need is to investigate the suspect. The should stick on their job and I don't believe that acting like a fraternity should be included on their job.

• Indonesia
16 Sep 10
agree, my friend ... That's a main job an investigator. He has no right to suppress, coerce and intimidate suspects