The cutest thing!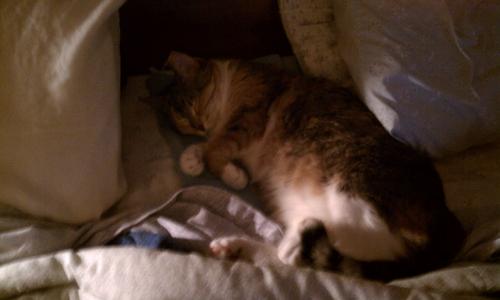 United States
October 4, 2010 6:20pm CST
What is the cutest thing your four-legged little friend does? My cat likes to sleep with my husband and I. The catch is that she likes to sleep like us, with her head at the pillow and her body longwise towards the foot of the bed. She is so cute! Just look at the picture! So what does your little friend do that makes you go "awwww!"?
4 responses

• United States
5 Oct 10
My tomcat does the same thing... My kitten, on the other hand.... I often wake up with a mouth full of fur because he's decided to go to sleep either by curling up on my shoulder or curling up in a ball on my head after I've fallen asleep! lol! That stuff gets me every time. I also ask my tomcat where his "brother" is, referring to the kitten, and he'll stop what he's doing and look around anxiously for the little guy. They are definitely my furbaby/kittie kids!

• United States
4 Oct 10
That's a great picture. I love pictures of people's pets. Sherlock does so many things that I wish I could capture on camera. The cutest thing to me right now, is when I'm ready to go to sleep. I get in bed and lie on my back (sometimes I end up dislodging him during the night when I toss and turn). He jumps up in bed, walks up and settles right under my armpit. Then he puts his head on my chest and goes to sleep. So I spend the whole night with my arm wrapped around him. He's just so sweet.

• United States
10 Oct 10
I don't have any live pets but the cutest thing I've seen in a long time was when I had a Beanie Buddy stuffed dog in my arms when a neighbor went by with a little dog on a leash, taking it for a walk. Well, her dog saw my fake dog and fell in love with it. She jumped up and down and moaned and wiggled all over and could not take her eyes off that cuddly stuffed animal. She was just beside herself for 10 minutes or more and the owner and I were laughing until our sides ached.