Horror crash that took away 12 peoples life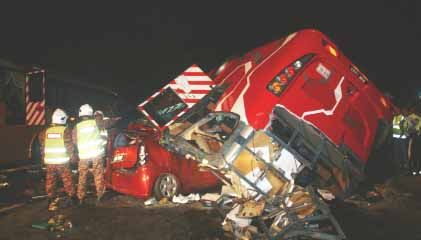 Malaysia
October 11, 2010 6:19am CST
Yesterday, there was a horric and terrified crash, an express bus crashed through the guard rails and ploughed into five vehicles. 12 people died on the spot. It was at the highway and I was at the highway at around 7.30pm. It started to jammed and all vehicle seem can only move very slowly and until a certain location, all vehicles was not able to move at all, people were started to guessing there must be an accident happened. This was another bus crashed on the highway and 12 peoples died. It is the same as the previous accident that involved the express bus which took away 5 peoples life, the bus was believe going way too fast. Buses were allow to drive at the speed of 90km/h but yet those express bus were drive over 100km/h. That cause the accident. I think the authority really must do something about it.
3 responses

• Malaysia
12 Oct 10
According to one report the driver was drunk, and driving at a speed of approaching 170km/h. He survived, and if he stays alive he should be banned for life, and made to pay damages to the bereaved families. It is easy to say that the government is complacent. In reality it is not easy to catch traffic offenders, and even more difficult to mete out punishment. If you do not already know then let me tell you that many transport companies use modified hand phones so that their drivers can stay in continuous contact with each other. So when enforcement officers are around these drivers behave themselves. Maybe you have heard or read about Tontos beating up officers. There are people who like to politicise issues especially when the culprit is of a different ethnic background. When an enforcement agency swoops down they talk about racial discrimination and harassment. Please try to understand the obstacles facing the appropriate authorities. If we really care we should help, for instance recording a speeding express bus, and send the recording to the Road Transport Department.


• Malaysia
12 Oct 10
It is a question of manpower. Have you heard of certain quarters claiming that the country is turning into a police state? Some money has been diverted to increase the salary of law enforcement officers, and these people are not satisfied with the move. It boils down to the attitude of the drivers regardless of race. For example many members of one political party flout traffic regulations because they are man made. When caught they complain later on of injustice. There are drivers of big vehicles who travel at high speeds because most other road users are intimidated by their vehicle. The government did resort to speed traps. This did not go well with many people, especially those who are anti-government. The RTD welcomes any recording of traffic violation. There should be details like the date, time, and location. After the furore of speed traps it is not certain whether this is still applicable or not.

• Malaysia
13 Oct 10
You are somehow correct that the main problem is the manpower, but since they know that is the main problem, why not recruit more people and allocate them to each bus terminal and rather than just by keep saying no manpower and without doing anything and just let the problem exist. I believe the rules maker can make a stricter rule and if they really enforced it, I believe it will work no matter how those people anti or against it. This is just a matter of execution. If the executor take it seriously and be persistent, nothing is not possible. Just like the speed trap, or speed camera that installed on the traffic light area, it seem to be working for a while and then disappear for no reason, is that because of lack of maintenance and just a "toys" to play around by spending the peoples' money. Do think about it. This is not something that against the government or what, but that is the truth that everyone know and can see by their eye. Now the new "toys" which cost multi-million is going to take place for those old "toys", let see how long will it last and how effective it is.

• Malaysia
12 Oct 10
These drivers are acting like they are testing their driving skill while having lots of passengers inside, so idiot. That is just really irresponsible and my thought is, all drivers should be given a seminar and be taught about how the what and when, etc. There are many drivers who treat road is like their own, and no one else is driving along, and it is worst especially those bus drivers who are carrying lots of passenger. Even at my town, accident happened with bus because the bus driver is texting using phone while driving! something is definitely have to be done


• Malaysia
12 Oct 10
I personnaly do not like the bus driver, many bus driver are really careless and unresponsible, they will just turn into the main lane whenever they like without giving any signal. My nephew was one of the victim of these kind of careless bus driver, and he broke his leg's bone and lie on the bed for 6 months. I do not think that seminar or talk will do for those bus driver but the authority must do their job properly to ensure that these bus driver really follow the rules. To install a device that limit the max speed of the bus will do to help to eliminate speeding buses especially on the highway. I do think that the authority did not do their job well.

• Malaysia
11 Oct 10
I heard about this long time ago. The authorities will be awaken 1) only after an accident happened; 2) only after we have read it in the newspaper; 3) only after we have watched it in the news; 4) only after we have heard it in the radio; 5) only after everyone has talked about it; 6) ...... What can we do? After so many proposals have be imposed and implemented, but the accidents of public transport are still persisted. Do you think it is good to preset the speed of the bus for not more than the allowed maximum speed. ha! ha! ha! Let's see how the bus drivers going to speed.