Watched Unthinkable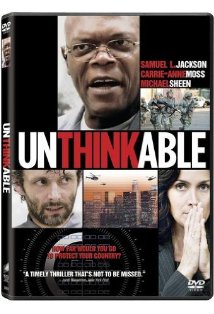 India
October 17, 2010 10:15pm CST
Have anyone watched the movie unthinkable. I watched the movie yesterday. I think the film is a crap. It was very cruel also.It is not good for small children to watch. The story is about a person planting bombs in america and asking certain demands. The story try to say that Americans have a kind heart and they always go for freedom of people. It also gives a message that being gentle is the weakness of Americans. I dont either support the message in the story. I am against terrorism. At the same time i am against the war done by america in many part of the world. I also thinks america's approach to the world has caused anger in many muslim nations and also increased terrorism. About the movie, it gives a very bad message. It says we should deal harshly to the arrested terrorist. They doesnot deserve any rights. If we are thinking in a way America is also doing terrorism in the name of war against terrorism .What do you think about the movie?
3 responses

• United States
18 Oct 10
no, i haven't seen the movie Unthinkable but have you ever watched the documentary the The Third Jihad. the documentary talks about muslims within the U.S. are using their rights by deceptive means to gain ground in order to make the U.S. an islamic nation. to me the idea of that is the abuse of ones liberties. it really takes a hard look at the issues and the main person of the documentary isn't just some non-muslim American putting down islam but is actually a muslim American speaking out against other muslims for not doing more to condemn terrorist acts. look, i'm not putting down islam as a religion but what i am doing is putting down people who are abusing the rights they have been given as citizens of the United States. if people are plotting within the U.S i feel they should be dealt with harshly. i would advise anyone who is an American to watch the The Third Jihad. the main issue it talks about in the documentary centers around the Islamic Manifesto. i'm sure you could probably look it up online. the issues in this dvd isn't anything to be taken lightly.

• Philippines
18 Oct 10
I think you are an idi0t, why? of course this movie isnt suitable for kids because its been rated as rated R. Read before you rant, and why would you give some random terrorist some human rights when they crashed a god d
@mn
plane into a god d
@mn
building, huh?. Oh yeah wait, it doesnt stop there, have you watched those videos where terrorists (I think so) slit the throat of those people that they have taken as hostages., huh?. oh yeah i guess you missed all those things when you started this discussion

• India
19 Oct 10
I do accept that terrorist should be treated harshly.But the movie gives a false message that americans weakness is they are for human rights. Also there should be no rights for these peoples. I never think americans are so good in protect human rights. You know the incidents in Guntanamo bay. Also do you justify the war of merica in various nations?

• China
18 Oct 10
The movie is not healthy,They do not suit small children to watch.