how much caffeine content of Tim Hortons medium size caffee?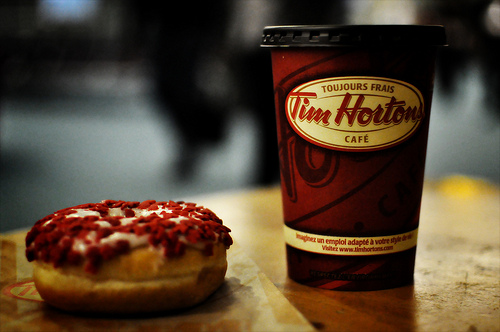 Canada
October 23, 2010 7:29am CST
i know it is silly to ask, but seriously i wanna know co'z i'm watching my caffeine intake...i know that two cups is enough, generally speaking, but i think the medium size is more than two cups?

3 responses

• Garden Grove, California
23 Oct 10
hi bart if this helps any I found a chart on caffeine content on various coffees, they did not give the medium size on Tin Hortons coffee but the content on small tim Hortons was 100 and on large tim Hortons was 200 mg of caffeine. So I would say medium size wou ld be 150 mg of caffiene going by little being 100 mg and large 200 mg.




• Canada
25 Apr 11
I work here ahaha, a small coffee is 8 oz, a medium is 10 oz, a large is 14 oz, and an XL is 20 oz. Unless your in america than everything is bumped up by roughly 4 oz. I'd say there's around 80mg in a Canadian Tim Hortons medium, and around 110mg in an American Tim Hortons medium.