do u use mylot search engine?

India
October 23, 2010 11:25am CST
Well we all know that we get money sometimes when we search on the mylot search engine. And many people have got a lot of money by only searching on mylot search engine, but i don't use search engine that's why i haven't yet got a single cent through it. Do you have any idea how we can surely get money by searching?. Do you use search engine?
11 responses

• China
24 Oct 10
i don't know whether it is better or worse than other search engine. but i think that mylot search engine must be as good as other search engine. so i will try the mylot search engine tomorrow. then i will chooose the better one . maybe its like what you are discussing . thank you .

• Spain
24 Oct 10
I use it from time to time, even though sometimes I forget and end up using my regular search engine instead :P I don't really know how it works with getting rewards and such, though, I've gotten rewarded several times but I don't think I did anything in special, so to speak, just use the search engine normally... and well, that would be my advice: just use the myLot search like you'd use any other engine, and good luck with getting earnings! :)

• India
24 Oct 10
Well, then you are similar to me as i also always forget to use the mylot search engine. And that's tge reason i haven't got any reward from the search engine , but i would feel happy if i ever get paid for using the mylot search engine. Happy mylotting thanks for your response.



• India
24 Oct 10
Hello there ! You don't need to search, just to make money. I suggest you not to do that. Be natural and search when you need to, and you will be rewarded for it. You don't get paid for searching, you get paid for using it when you really need it. Cheers :)

• India
24 Oct 10
Well, i don't use it to get rewards as i don't use it that much and that's why i haven't been rewarded a single cent till now. I just search sometimes when i need some informations and i never use it more than one time a day. And i think thats the reason i am not getting rewards. Thanks for your response.

• Italy
23 Oct 10
normally i can use the searchbar here on mylot to retrieve some discussions or just to find some others related t a specific topic.In reality as regards the cents you can earn using it i think there is not a scheme ...just you search and may be sometimes you will win some cents more that will be added to yoru earnings i suppose!

• India
23 Oct 10
Well I have earned many times from Search Engine of mylot,Its simple to use it, What ever quiry you have in mind, just type on the search engine, If it could prvide you any information about your quiry then its allright and if it doesnt then they pay you awards, as your quiry is a new for them too

• India
24 Oct 10
Ok , i think you are lucky in case of getting rewards from mylot search engine. I have never got any reward from them. But i also don't use it that much, that may be the other reason. I always try to take advantage of the search engine but i always forget to use it. Thanks for your response.

• United States
23 Oct 10
I use the Mylot search engine. I use it alot! If Mylot didn't have it I still would do alot of searching! I love searching stuff like on animals and people for examples! I get money from the search engine every few days. I also start discussions and reply to discussions. I even downlaod some photo's.I do everything on Mylot,except Tasks!

• India
23 Oct 10
Ok, nice to know that you have got rewards for using the search engine. I also use it sometimes but never got any rewards for that. I hope that i find out how does the mylot search engine works. That would help me a bit to earn more. Thanks for your response.

•
23 Oct 10
I prefer the old search engine as it found discussions easier, although I do use it I really don't like it all that much but it earns mylot money so that should make me happy. I tend not to search for a lot, as it takes time scrolling through the links because it doesn't quite pinpoint the actual works very well. Still it's there and I'm grateful for it.

• India
23 Oct 10
Yea i know that it does not work that well. But as it earn us money so we should always take advantage of it. It may contribute to our payout. I have used it some times but never got any reward from it. And i am disaapointed about that. Thanks for your response.

•
23 Oct 10
I search for a few things using the search on here sometimes,where as not always do they have what i am looking for,but i do know that if i am on this site i will use this search engine first,also it saves time if it can find what im looking for,the bonus is the cents that they pay.

• Davao, Philippines
24 Oct 10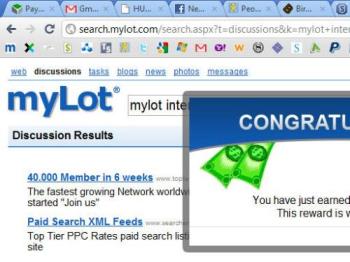 I used mylot searched engine not often times. If I think a good keywords that I need to check it online that's the time I used the search engine but most of the time I keep on posting here rather that using search engine service. I enjoy posting while interacting with fellow mylotters. Although I earned some cents from doing the search engine service but still I prepare to read different post with my friends and start responding on it. I add the photos I got when I used the search engine before yesterday.