Wonderful, totally SAFE mosquito repellent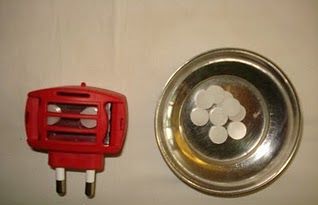 India
October 25, 2010 7:55am CST
Friends,

malaria and Dengue are on a steep rise.

We all must be using liquid or the old blue tablet type of mosquito repellents sold under various names. All of them contain the same poison. But despite their use, it is common to see mosquitoes hovering around with the best of repellents in action. Secondly, we cannot use these mosquito repellents whole day, be they be of any brand. Thirdly, many people land up with allergies due to them. As they are poison for mosquito, they are poison for us too, particularly infant and babies. In the past, most Hindu families used to would light 'diyas' (wick lamps in ghee or oil) and burn camphor on a regular basis as a part of daily 'puja' (worship). These helped to purify the air and keep harmful bacteria, viruses and mosquitoes away. We can definitely have a better and healthy environment with the use of camphor. Camphor is known as 'Kapur' is a waxy, white or semi-transparent substance extracted from the wood of the Camphor Laurel tree found in Asia . Camphor has many known medicinal uses like, it relieves nasal congestion and cough when rubbed on the chest as an oil. Camphor is used as an ingredient in throat lozenges and cough syrups and in Vicks. Camphor is also used in some anti-itch ointments, creams and cooling gels because it is can be absorbed through skin and is effective at treating pain locally. It has an analgesic effect which makes it a favorite oil to be used in pain relieving massage blends for sore muscles and arthritic pain. Camphor is known to improve the quality of air making it a better for our lungs and heart.
Many people are not aware of the Mosquito repellent power of Camphor, a simple solution without side effects and very cost effective. It is a powerful, safe natural mosquito repellent. With round the clock effects.
You do not need to burn it for that. There are three easier ways to do it - 1. Put 2 tablets of commercially available camphor on any warm surface, see pictures. Plug it for an hour and see the results. You can do it twice a day- morning and in the night as well. 2. Place 2 tablets of camphor on different corners of the room or at places where mosquitoes seem to love to stay. Leave them there and they will evaporate in a day or so keeping the air purer and mosquito free. 3. Take a wide opened cup or plate with water. Drop 2 tablets of Camphor into the water. Keep the cup with water and camphor in your sleeping room. The quantity of water and camphor may differ from room size. Water evaporates at normal temperature. Camphor slowly started dissolving in water. The water evaporates with Camphor smell. Adding little bit hot water gives instant action. [b]Friends, try these, I am sure, you will be amazed at the results. You are not killing them. If you are satisfied tell others.[/b]
Professor

4 responses

• United States
26 Oct 10
Forget mosquitoes, I have a major ant problem, and I have been doing everything in my power to get rid of these darn things. We don't have mosquitoes where I live, but we have really bad ants.

• Garden Grove, California
26 Oct 10
hi professor I knew camphor had a lot going for it and I personally love the odor. when I was younger working as a nurses aid they used camphor in the steamers for people with bronchitis and it really did work. In my home state when I was younger we had really fine woven screen windows so the mosquitoes

seldom got into our homes, and we had a lot of mosquitos specially in the evenings.Don't you use bug proof screens on your windows?



• Philippines
25 Oct 10
Thanks for sharing! I hope I can find camphor. If I am not wrong I think camphor is an ingredient in some ointments and has soothing effect. I really didn't know it can drive away mosquitoes. I hope I could find it in our local market.


• Philippines
25 Oct 10
dear professor, some people are just not prone to different smells of insect repellants inside the home. i for one is like that. so what i did was put screen on all the windows and doors. i spray insecticide before i leave the house for work in the morning and when i get back home at night, the smell is no longer there.

i have tried the electric mosquito repellant. i have seen the effectiveness especially on cockroaches but after a few hours of use, i get a headache. probably the vibrating effect gets into me too.

well, i can try the camphor anyways. i will tell u how it is after i have experienced it. ann