Misuse of 'RED LIGHTS'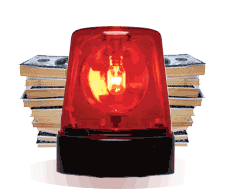 India
October 25, 2010 8:18am CST
In my state, certain persons can use blinking, rotating red lights over their vehicles. They are governor, speaker, deputy speaker, chief minister, cabinet minister, state ministers, deputy ministers, chief justice and justices of high court, advocate general, chief whip of state legislative assembly, election commissioner, chief secretary, revenue divisional commissioner, district collector and magistrate, ADM, SDJM, Executive magistrate, district judge, sessions judge, patrolling police vehicle, fire brigades vehicle on duty to mention a few. Others can use 'blue' light only.

But I see many persons using the red-lights, this is illegal. Similarly, one can see, stickers marked, 'DOCTOR', 'PRESS' pasted on the front and rear glass. This is to escape checking at the check gates. There are bridges on the highway where all passing vehicles have to pay toll tax, but vehicles with red lights are not detained. In the past criminals too have been found to use the red lights and the stickers.

[i][b]What is the scenery at your place and country? Please also comment on my story. [/b][/i]
Professor

3 responses

• Philippines
25 Oct 10
dear professor, our newly elected president have banned the use of government officials of the red light and car siren when passing the roads with traffic. only ambulances are allowed to use it and the fireman's truck. i guess that is a bit of a shock for the government officers who have been used to using the roads like kings. it makes me smile though seeing them being disciplined. ann


• Garden Grove, California
26 Oct 10
hi Professor only fire trucks and police and ambulances are allowed blinking red lights, no body else. Oh the president and vice president may have use of them in some sort of parade type thing. but ordinarily

in my country no. only emergency vehicles. sometimes fire people cheat and use red lights just to cut through traffic but thats a no no and if cought its big fines and maybe some jail time.Also Highway patrol men can use the red blinking rotating lights. I do not think political people should have that right myself.



• India
25 Oct 10
Hi Professor, In my city I don't see anyone misusing RED LIGHTS.Only high officials used to have red lights on the top of their vehicles.The officials would be representatives of government.Sometimes AMBULANCES would also use "RED LIGHTS".This is a new crime.Yeah,vehicles with red lights passing near the bridges on the high ways don't need to pay taxes.In my city there won't be such crimes like this.More over there are only one or two bridges for paying the road taxes.As I said earlier this has been a new crime in your city.If you see any you can immediately complain to the POLICE.