Have you tried to Gamble Online?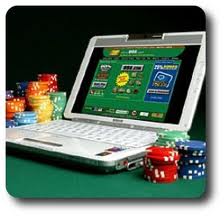 Philippines
November 6, 2010 9:51pm CST
Here's a topic I know some of you won't admit since there's a lot of people that became addicted to this. GAMBLING. I've never done it myself but have friends who do this for fun and also got hooked. They go to Hotels just to play in the Casino and end up loosing all their month's salary in just one seating. But now a days since technology is getting better and better more and more gambling companies have put up ONLINE GAMBLING sites. And now its just a click of the mouse and register your card and your good to go. Has anyone of you tried playing on this gambling sites? Do you think its fair that it depends on the computer if you will win or not? If you are playing, what site do you go to and why do you do it?
10 responses

• Singapore
7 Nov 10
I haven't tried online gambling and I'll never do it. It's a 'sure-lose' situation. The programs are designed by the people behind the website. I'm sure they can manipulate it... well, in a way, they could have let you win for a few rounds to get you addicted... and slowly, draining your $$$ away! -- Therefore, it's not even fair! I've read news about online gambling and worst thing is, there's one who lost $40+ on that particular site, still insist on gambling after he earn back his money from his job... *face in palms* Omg. It's really bad getting hook on it and it will be hard to get out it... So, never try it! :)

• United States
9 Nov 10
I like to play games online where I am able to win prizes and such, but I've never tried gambling online. I don't have the money to waste on gambling so I've never looked into gambling online. That said, there are times that I do like to go to the riverboat casinos that are in Indiana. However, it has been several years since I've been able to afford to even visit one of those. I did, however, have the opportunity to go to the horse races last month and I had a lot of fun when I got to do that.

• Guangzhou, China
9 Nov 10
Actually I haven't gambled in my life yet and this is soemthing I will not be interested in it. In the past when I played Majong with friends, I didn't play it with money. It was for fun only. Therefore, it is not possible for me to gamble online. This won't be a way to gain money. I love China




• Philippines
8 Nov 10
I've never tried this at all and don't want to get involved in it in any way. Gambling in whatever form they may be is still bad for me. I'd rather get addicted tot earning online rather than losing money online.

• China
8 Nov 10
I never gamble my myself, but many friends of mine like gambling online,they spend a lot of time on it, kind of addicted. I think you can play it occasionly, but can not be addicted to it.

• Indonesia
7 Nov 10
No, I never. It is forbidden in my country. So by the time I wanna join, the site warns me. Besides, I can't gamble at all,

. But I guess it is easy to study. However, my religion forbid gambling. So, it's better for me to stay away from gambling. I am also skeptic that we can be rich through gambling. I do not believe that.


• United States
7 Nov 10
I have never done it but a good friend of mine likes to play poker online. I would never do it unless I had free opportunities, because I know that you waste more money than you win, usually. And I have no money to risk on gambling.

• United States
7 Nov 10
I think a lot of the enjoyment I would get from gambling is from actually being at a casino, seeing the people I'm up against, and actually seeing the money I'm losing or gaining. I think online it would be much easier for it to become an addiction, and much easier to lose track of how much money you've lost. If you're interested, you could maybe try finding a gambling site that doesn't use your money, and is for gaming purposes, while you're still able to bet. If you like it, maybe try moving on to actually gambling online.

• United States
7 Nov 10
I gamble in casinos but I have never gambled online with using my card. I have not heard of any legitimate casino sites yet and plus I am scared they're scam sites. I enjoy playing blackjack :)