My PC Crash...For the Third time..:-(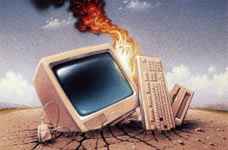 Philippines
November 13, 2010 9:08pm CST
Hello Lotters

, First, my PC got this crazy error, then my browser wasn't allowing me to access some sites. and then after downloading Google Chrome, the surfing went a bit faster and all of a sudden it stopped for no reason, for the second time.

This morning, my mom wanted to go face-book again but i told her i would check it first if it's working now. when I opened it, it was clear that the OS isn't working No more. So, that means the PC isn't working ANYMORE, GRAAHHH!

So much for that. It means i have to spent other things this coming holidays.. Have a Great Day Every one. *sorry i didn't put this in the Computer/Internet section, this is personal (LOLZ)*
9 responses

• United States
14 Nov 10
Hey, I would open the CPU cover up, because the fan might have caught a lot of dust. My computer has frozen and shut down many times and eventually crashed, but I've opened the CPU cover to check out the ram, fan and connections. I unplug then plug back the main wires, clean out the dust in the ram section, and also make sure the fan wires and fan are okay. Hope this works, as I've had countless success in making my computer work.

• Philippines
15 Nov 10
Hello rovered

, Maybe i should do that before my brother inspects and reformat my computer. thanks for a very concrete advice. but what kind of materials i need to use to clean the motherboard, chips, and other stuff inside my CPU. that's indeed what i have to do.


• Malaysia
14 Nov 10
Hi L. Knight Very sorry to hear that your PC is doing annoying things with you, i think the first comment over here is right, some time your OS or some software respond like this and I personally think the cause ll be your power supply which at some time crash your whole operation system, I also agree with first respondent that you should try to change the power supply. And one other thing, you can buy any OS from market and try to install it your self, it is very easy and does not cost you much and any time you get a problem just installation ll work for you, In my PC I have preinstalled window XP, it got problem one time, so for me I just restore every thing. It is always recommended to make a restore point at your computer before and after installation of any new software, it ll always help you when there is some alteration or change. And most important, you should have updated antivirus, you can use any antivirus, but in free antivirus, I think avg is doing good job, if you can then try to download and install it on your pc Have a nice weekend...:)



• Malaysia
14 Nov 10
Thats really good that you are using linux, I have installed from our technician in university but still I am not expert in this operating system, I dont know whether there is any restore point in linux or not but I think your brother ll figure it out But I think you can install both OS in one computer, why you dont try to operate it from both OS....:) Have lots of fun...:)


• United States
14 Nov 10
Shouldn't you sell that piece of junk and get a new computer? I've found cheap laptops for only about 300-400 dollars that are quite fast and have a good system...

• Philippines
15 Nov 10

Hello there Justin,
Shouldn't you sell that piece of junk
that's insulting you know

This computer had been my source of everything i have accomplish for the last five years, and call it a piece of junk is the worst thing than just disregarding how importance our computer is! I love my pc and even i get a new one i wouldn't consider it a piece of JUNK. I'd probably have my mom have it and put new things in there.

• United States
14 Nov 10
I saw that your computer was new in 2006, so you made it longer than my new one I got in 2005. (Of course it could be due to something my daughter did while she lived here) This one I have had only a few months and yesterday it started slowing down real bad and freezing up, on all my browsers. I did scan for malware and it was clear. Then I updated my security, (even though I have it set to update automatically) and then scanned. It did find and healed 8 warnings, but there were no threats. I have just signed back on and it seems to be ok, but I will see later today after a while of being online.. I hope you can get another computer soon, it stinks being without one.

• Philippines
15 Nov 10
Hello Carmel

, We always tend to reformat it recently. probably if i wasn't much of a PC GAMES addict then instead being a mylot back then in 2006, maybe i wouldn't have this much trouble. besides, it's hard to believe knowing am using linux ubuntu

well, it will besides, i got pay out set for next month already

• United States
14 Nov 10
Life is like the weather for me, that when I think I am taking one step forward it causes me to take two back. When it is not one thing it becomes another. So I have learned, and the way your discussion is posted, that we both have simply taken things as they come. Good luck on the new pc as no matter what kind of deal we can get it is still expensive to our budgets.

• Philippines
14 Nov 10

Hello hardworkinggurl, Unfortunately, I won't buy any. am just gonna have my brother reformat it, if not then i have no choice but use my pay out to have some one else reformat it.


• Garden Grove, California
14 Nov 10
hi letran I am wondering if you have an older computer becasue mine acted like that until finally it wou ld not even start. It was the powe supply it was gone done, kaput. you may need to get a power source and they are not really that expensive, a lot cheaper than buying a new computer.It is just like a car's engine if it goes bad your car is useless til you get a new battery.I do feel for you as I have had my computer quit too like that, hope you can get it working and if it is the power source that is not so costly as a lot of otherthings, still cheaper than having to buy a

new computer.


• Philippines
14 Nov 10
Hello hatley

, My PC was New way back 2006, so, this is the third time that it has crashed since february of this year.we already have a new power source, the only problem is the software, which reformat the only solution for it. time for me to log out i will wait for my pay out this week. have a nice day hatley

• Philippines
14 Nov 10
hello Letran, Oh dear bro,again? Well,maybe you need to reformat your pc again and make sure to shut it off properly. OS will encounter problem when it is not properly shut off. Frequent reformatting will cause the memory to mal-function too. hope it won't take long for you to fix the problem dear bro. have a great weekdays ahead



• Philippines
16 Nov 10
Yup...improper shut-off + reformatting = memory loss. It happens to my pc,and now with my laptop. I lost my 2GB MEMORY in laptop because of it.(ugh!!! kidsss) Now i am afraid i will be losing the remaining 2GB(wahhhhhhhh) as i can hear unwanted sounds from the memory each time i turn on my laptop. Have a good day always dear bro


• Philippines
15 Nov 10

My GOD!, at least am not alone, thanks



• Philippines
15 Nov 10
Well its unfortunate. This is really one of my hair pulling moments. But I usually solve my own computer problems. Well I might help can i ask what is your? OS: specs: age of your computer: explain the problem exactly: Example random shut offs, do not boot os and such.