A lot different than normal!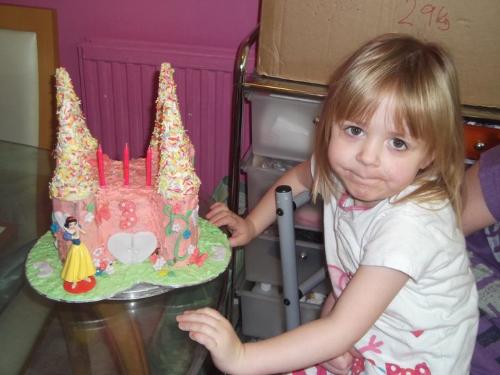 November 15, 2010 4:54am CST
Today is my little granddaughter Isabelle's third birthday. She is the youngest daughter of my eldest daughter, Helen, who has her own little cake making business. Isabelle REALLY wanted a Disney Princes Palace dsigned cake for her birthday but Helen was devasteaed that here recent operation on her elbow meant that she wasn't able to make the cake for her. I live 70 miles away from them so wasn't able to oblige but thankfully two of her sisters - 11 year old Emily and 5 year old Hannah came to the rescue and made this lovely cake for her. She was delighted with the result as you can see in this picture of her with the cake! Have your sisters ever done anything nice like this for you!
9 responses

•
15 Nov 10
Firstly Happy Birthday to Isabella. She looks thrilled with her cake. Although Helen was no doubt upset that she could not step up to the challenge, she must be equally thrilled with Emily and Hannah's flight to the rescue.

She is lucky to have her sisters. I and mine (step sisters) are rather estranged.

• United States
15 Nov 10
I thought I was reading a discussion by someone else, and had to double check. My sister did nice things for me, she also tormented the life out of me. I guess that is what sisters are for. Glad Isabelle's sisters stepped up to the cake plate. I am sure it will be something she remembers always.

• United States
16 Nov 10
A really nice family you have. Your daughter has gotten cheered up by some of the most generous people. When we were all kids, there were lots of desires built within us. Some of us desperately wanted toy cars, while others wanted base balls, basket balls and movies. Your daughters wish to go to Disney Land is a common interest among many children. Even though you couldn't spend time there, the cake definitely side geared her wants, and brightened up her day. The effort and customization that went into the cake make such a birthday an unforgettable moment. Its a lot different, but feels truly normal!

• Philippines
15 Nov 10
Yes my sisters do all their best for her sis and bro and we really appreciate this things. Not only for the cakes but for all needs that we are need like financially and many more. It was so nice...



• United States
15 Nov 10
They did a very nice job. I'm sure Helen did help some as they did an exceptional job if it was just the two kids. My half sisters have never ever really done anything nice for me. They dislike my existance.

• Canada
15 Nov 10
Wow this is a great cake. Pretty talented, I'd say. My sisters have never made me a b-day cake....but they would if need be. One sister, however, cleaned my house for me one time before I came back from a cruise. You see, the 20 year old son didn't go with my husband and I on the cruise....and I told my son, I do not want to come home from vacation to a dirty house that I have to clean for a week. So, my sister and mom came to clean my house. they say it was n't too dirty, but it was 'man' cleaned-around the middle. So, they vacuumed, scrubbed and cleaned the bathroom. it was very much appreciated.

•
15 Nov 10
I know just what you mean about the 'man clean'!!!! I can just imagine the mess the two girls made making thi =s cake, they stuck the hundreds and thousadns(the little coloured sugar strands) on ice cream cones with icing for the turrets - I bet thet there wer more on the floor!!

• India
15 Nov 10
Wow thats pretty cute of them to do that. I wish i had sisters like that too.My sister never made a cake for my birthday but she did make cakes at home sometimes which my girlfriend taught her how to make.She made very good cakes.I really miss those times.