Do you know what a Talking Stick is?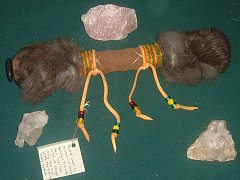 Canada
November 19, 2010 7:41pm CST
In many Aboriginal circle gatherings, a Talking Stick, stone or eagle feather is held by a speaker who speaks from the heart, with courage and respect about his personal quests. Those gathered to listen, do so with the same respect and without interrupting. At the end of his talk, the Talking Stick will be passed to the next person for them to share their experiences in the same mannor. This is done until the circle is complete.
2 responses


• United States
20 Nov 10
What, you are talking about a talking stick? I don't even know that such a thing exists. Even if I were to talk about it, I would just tell you that I've learned what it is. You've really written a good paragraph about it, and I feel that talking sticks should be more widely used. So much integrity and good prose have been put into your posting and I believe you will do very good on MyLot. Lots of earnings will come for you when such postings are made. Get the gig on and follow your earnings dreams.