Using a sanitizer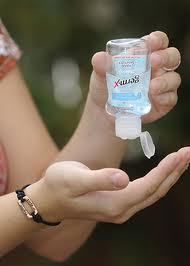 India
December 1, 2010 12:02am CST
I have started keeping a sanitizer in my purse of late and using it quite often while travelling and in the Office. Have realized that my nails have become quite rough after using the sanitizer. Do you use a sanitizer or still the same soap and water to wash your hands? What do you think is a better option? And how healthy are both?
9 responses

• India
1 Dec 10
Hello dear

, I am so happy to interact with you here in mylot after a long time. I hope you are doing well and in great health.

I am using a sanitizer at home but in office I am using soap. I never carry the same in bag. I haven't felt any roughness in my hand or nail still. You can change the same habit for a period and observe the result. In that way you can find out the exact reason. Take care dear. have a nice day


• India
1 Dec 10
Yes indeed I have logged in to mylot after a very long time. My bosses are away today and so I took the chance of checking my notifications of mylot. I have started carrying a sanitizer in my bag everyday and just recently I have found some roughness in my nails. Will discontinue using this and see if there is any change. BTW will be spending Christmas in Bangalore!!!!! Looking forward to this holiday.

• Delhi, India
2 Dec 10
Here goes the saying -

"
When the cat away, mouse play"

• United States
3 Dec 10
hello mayka123, Sanatizers are great in pinch like local bathrooms in the mall or at zoos or the grocery stores. But at home I am soap person and think it does a great job of getting germs and colds off our bodies and even for children. There are a lot people here in the office that use the sanitzer for there hands and we ladies got one in christmas stocking last year from our sales rep. So there are pros and cons to everything and all about you feel about the product. Thanks and have a great day! Sincerely Unqiue16

• India
2 Dec 10
If you think that using sanitizer is not fit for your skin it is better for you to avoid that brand and you can try with another brand. Before buying another brand of sanitizer ask others opinion about it. If nothing is suitable for you turn back to soap. I always use Johnson's baby soap to wash my hands and face because the quantity of chemicals are very few in it.

• Garden Grove, California
1 Dec 10
hi mayka I use a hand sanitizer that has aloe in it and leaves my hands soft and smooth. check to see if a hand sanitizer has moisturizers or skin conditioners in them . I use ivory soap and a sanditizer with aloe in it.My

skin is very sensitive and I am allergic to many chemicals in som hand products.



• United States
1 Dec 10
Hi mayka! I also keep a sanitizer in my purse and also the packets with the wipes! But, I still wash my hands every chance I get too. It has been said that using the sanitizer is ok, but not too often because if used to often it breaks down the immune systems barrier and you are more prone to pick up germs after awhile instead of the opposite. I use them anyway! But, the old fashioned use of soap and water is still the best bet. The sanitizers are used when you can't get to a sink quickly!

• India
3 Dec 10
I use soap and water most of the time but while in office and when travelling had started using the sanitizer before and after eating anything. In the office I would feel lazy to go to the washbasin every now and then so ended up using the sanitizer more often. Have today got a packet of wipes for a change.

•
1 Dec 10
From my experience, using a hand sanitizer makes my hands feeling sticky even after wiping them off so I stopped using them. I would still recommend using soap and water to wash your hands wherever you are because it cleans off the dirt way better than a sanitizer. Another recommendation would be buying those baby (or wet) wipes. Try looking for the cheapest ones and compare the difference when you're using a hand sanitizer.

• Bangalore, India
1 Dec 10
Hi mayka.. how are you doing.. Happy to see you back dear.. No I wont use sanitizer.. I dont like to use it because its full of chemicals.. rather I use soap..

• Delhi, India
2 Dec 10
Hi Mayka! I also use sanitizer many a times, however, I did not notice carefully, if using it has affected my nails. I think it (sanitizer) should be used, when we are not in a position to wash our hands with water. If we are in a position to use water and soap, it would be better to go for it.

• Philippines
2 Dec 10
i prefer washing my hands. i quite don't trust hand sanitizers. they clean, yes, but the sanitizer itself, the components of the product, just stays on the hands. it's quite uncomfortable really especially if one's hands have a tendency to sweat.