Hunger Game series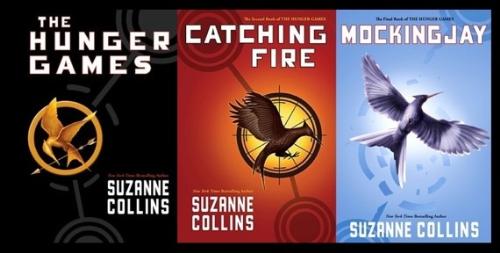 United States
December 10, 2010 6:38am CST
Have any of you red the Hunger Game series? There are 3 books: Hunger Games, Catching Fire, Mockingjay. In my opinion these 3 books are the best books ever. My language arts teacher recommended me these books. I finished all 3 of them in 1-2 months. The setting of this book is in district 12. United States got split up into 13 districts after the "Dark Ages". The 13th one got destroyed (you'll find out something very interesting about this in the last book) because it tried to rebel against the Capitol, which made all the districts. To remind everyone about the Dark Ages, they hold a annual Hunger Games. It consists of 12 boys and 12 girls (1 boy and 1 girl from each district). They are put into an arena and have to fight to death. The last one remaining wins. The gamemakers add many obstacles (fire, shortage of water, electrical things) to weaken the players. In the book, the main character, Katniss, has to go in the arena which someone she loves. All these 3 books have lots of action and suspense. I recommend reading all 3 of these if you already havent.
3 responses

• United States
10 Dec 10
I love the Hunger Games trilogy! Some of my favorite books too! I think my favorite of the trilogy was Catching Fire because that was the book that really had me ripping through the pages to find out what happened next. I love how the rebellion isn't just about weapons. They also fight with fashion, video images, and all manner of propaganda. It's a really amazing and unique series.

• United States
10 Dec 10
Yep, Catching Fire was a very good book. I found out what "Catching Fire" meant about half way thorugh, haha. The rebellion was catching on fire. I love Katniss's line, "Fire is catching. And if we burn, you burn with us!". Amazing series.

• United States
12 Dec 10
Man this makes me want to start over! Haha! I didn't get the whole thing about the rebellion catching fire, as my mind was set on Sector 13, and the whole Katniss and Peeta thing. After finishing Catching Fire, I seriously wanted her to end up with Finnick, but that was me being ornery.

• United States
13 Dec 10
Finnick? lol Can't say the thought never crossed my mind... but I was very attached to my Peeta x Katniss.

I wish we'd read dystopian fiction like the Hunger Games in school. There's a lot to talk about... not to mention the series is actually enjoyable.


• United States
10 Dec 10
I read Hunger Games and Catching Fire in 3 weeks! I have Mockingjay already, but I'll be starting it next week. I love how this story unfolded. It started out so dark because of the setting and how Katniss is affected by growing up in it. I can't wait to see how it all turns out. Catching Fire ending really really killed me with suspense!

•
5 Dec 13
I just watched Catching Fire and absolutely loved it :) I watched it at