Don't you just hate waste of resources??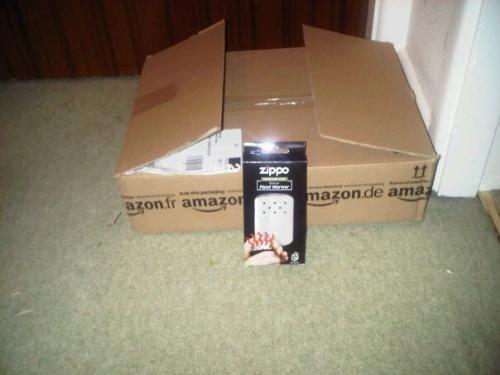 December 30, 2010 6:22am CST
Just look at this picture! This is the box that I received from Amazon with a tiny hand warmer inside . It wasn't anything that needed special packaging it was just in this huge box with loads of loose paper! They could have fit another 100 in at least! I get so annoyed with wastage such as this! What annoys you in today's wasteful throw away society?
9 responses

• United States
31 Dec 10
What
really
bugs me is the practice of sealing a number of things--food, pencils, whatever--into packages so that I'm forced to buy more of the item than I want or need, & in some cases, more than I can afford! I can't eat 4 tomatoes before 1 goes bad! I don't
need
2 dozen ink pens; I need
one
, & I'm not shopping for a whole frikken
office
! And then there's the famous example of those companies with related products who sell in unmatched amounts. Think hot dogs & hot dog buns--8 in one, 10 in the other! What is the
reason
for this? Stores didn't
used
to force you to buy in multiples. You could walk into a store & buy
A
tomato,
ONE
nail, whatever. A few mom-&-pop stores still do this in the U.S., but most of us only have access to the mega-marts. Even the
stop-&-robs
sell in sealed batches!

When I went to London years ago, one could shop a block (they say "streets" there) or so away from where one lived, so I'd go down the local "high street" & browse the little shops there, picking up
1 or 2
rashers of bacon from one shop, a
couple
of eggs from another, & so on 'til I'd podged together a decent breakfast. I'd take maybe 20 minutes to get all I needed & be back to cook it. Same thing for the other meals.
Much
more convenient, swift & reasonable than the way
we
do it! It reminded me of the literal mom-&-pops at which we shopped in the 50s. I miss those, & not just for the reason I posted this, but because the owner(s) of the stores
knew
you, stocked what you liked, would let you run a tab, & in many other ways went out of their ways to accommodate your needs. I'm not sure
how
we could encourage that kind of service
now
--the "Big-Box" stores have a grip on peoples' minds--but I suspect that they could at least
try
to pay more attention to
service
, & offer
non
-bunched items to those who want them! I mean, they list--even on the shelves where items are
standing
!--what the price-
per-unit
is, so since that price is in their computers already, all a customer would have to do is give the checker the item, let it be scanned, & then pay the per-unit cost--hey, presto! No more rotten, wasted food, or stuff to store 'til you run out of room to store stuff! There! I feel better now. Thanks for the soapbox!

Maggiepie "The trouble with ignorance is that it picks up confidence as it goes along." ~ Source unknown

•
31 Dec 10
I do SO agree!!! These large shops seem to ignore the needs of single or older people, like the 'buy one get one free' - why not just sell the item at half price!! You have thrown up several expressions here I have never heard before - like mom-&-pop stores and stop-&-robs; I have never heard these expressions before - I'm thinking that the mom and pops is like our old family corner shop and the stop and rob like our late shop/off licences!! Yes in Britain we do still have several little independent shops like greengrocers, butchers and bakers where we can buy things in smaller amounts, but the larger supermarkets are taking over more and more. Bigger is not always better in my opinion!! Luckily I live in a small village with a traditional village shop where everything is sold just as you want it - no pre-packed foods in sight!!

• United States
10 Jan 11
RICHNAI: I really
like
that idea! There are so many Asian foods I love, but have
no
idea what the ingredients are or how to prepare them! Of course, that means I'd have to find someone who knew what to do with the items "mom & pop" bagged for me, but hey, it's a good
start
!

Hmmm...I don't suppose there's any way you could share some recipes with me
privately
...
ne
?

Maggiepie "I am a most unhappy man. I have unwittingly ruined my country. A great industrial nation is controlled by its system of credit. Our system of credit is concentrated. The growth of the nation, therefore, & all our activities are in the hands of a few men. We have come to be one of the worst ruled, one of the most completely controlled & dominated governments in the civilized world. No longer a government by free opinion, no longer a government by conviction & the vote of the majority, but of government by the opinion & duress of a small group of dominant men." ~ President Woodrow Wilson: aristocrat & socialist, regretting his part in creating the tyranny of the Federal Reserve

•
30 Dec 10
That certainly looks like wasted packaging from where I am. The flip side is that at least we can recycle it to produce other paper products, so at least it is in the loop. It would not take a lot of effort to package things more appropriately. What really annoys me is all the blister packs that, all too often, are not recyclable.

• United States
30 Dec 10
When I was a kid my mom had a copy of the Legend of the Thunderbird, a native American legend. It really influenced how I look at things and yes, waste is a biggy for me. In the legend, a young boy killed a Thunderbird, part of a pair which had been carrying off children from his village. The mate of the bird he killed told him that he would stop terrorizing the village if the village did not waste his mate's body. They had to use everything - the hide, the meat, the bones, the feathers...nothing was to be wasted. I don't know what tribe of native Americans the legend comes from but it is one of my favorites.


• Pamplona, Spain
30 Dec 10
Hiya chem, Wastage that annoys me could be a lot. You are right they only needed to put it in a little piece of packaging stuff and away and a smaller Box too a much smaller Box by the sound of it. Then they complain they are losing Money. I keep a lot of packaging stuff and it has come in very handy this Year at least on many occasions. So you see I kept all the waste and reused it again. I only hope that the other People on the other end did the same thing.



• Pamplona, Spain
30 Dec 10
Hiya chem, It could well be that the People who package the things up waste more because it´s not theirs to waste. Coming from another source they happily package things up and don´t bother about the wastage. However I am only supposing that. I think most of us are very careful about how we recycle things now. I always make sure if I can´t use anything it goes in the right bin for example and things like that.



•
31 Dec 10
Oh yes me too, sadly there is so much packaging on many items these days that are just not recyclable! Earlier this year there was a campaign here in the UK for people to take excess packaging back to the supermarkets to make tghe point. Details here http://www.independent.co.uk/environment/green-living/mps-sign-up-to-the-campaign-against-excess-packaging-446412.html

•
30 Dec 10
I certainly do, the amount of waste in the packaging from the children's Christmas presents was absolutely ridiculous! I filled my rcycling bin up and still had a load to take down to the recycling cenntre. And as for all those stupid wire things they hold the presents in with grrrrrrrrrrrrr

• United States
30 Dec 10
The fact it takes about ten minutes to open a lot of DVDs because it is wrapped in so much plastic. That is so annoying. Not to mention the security seals but I can at least understand that. Still that is rather wasteful. Putting anything in more material than it is absolutely necessary is a frustration, not to mention it takes time out of my life to actually opening. So that really does annoy me on a number of levels, on the wasting resources level and the wasting my time level.

• United States
31 Dec 10
Oh gosh! Yeah, that is a real waste. They could have put it in a padded envelope. I am sure with a big company like Amazon, that they use different sizes of boxes and envelopes. No wonder why prices keep going up. Not to mention, what a waste of paper.

•
31 Dec 10
Hi there, If you think that's a waste of time you should've seen my stepson's package. He just bought an xbox 360 and a years Xbox live membership. The membership was a scratch card inside a plastic rapper, stuck to piece of cardboard, inside a game box and guess what.... that's right inside a plastic rapper. Why not just have a scratch card inside a plastic rapper.