My first car!!

December 31, 2010 4:36am CST
If you had asked me yesterday what my first car was, I would have said that it was the rickety old Vauxhall that I bought for £100 in the 1980's when I returned back to work after having my children. But then yesterday my cousin sent me some old photo's through Facebook and there amongst them was this one of me (aged around 3)with my pedal car at my family's old caravan in Towyn, North Wales!! Can you remember YOUR first car, I bet it was closer than 57 years ago!
10 responses

• United States
1 Jan 11
My first car was a VW bug. It was new, but it had been wrecked so it was really cheap! It wasn't 57 years ago, but it was a long time ago. Almost 40 years ago!

• Pamplona, Spain
31 Dec 10
Hiya chem, Our first best Car was a Ford Cortina yellow gold with a Black Roof and it cost us 500 quid then. Apart from the hole in the Radiator which was minimal on our first Journey it got repaired. It was the best Car I have ever known to date. It took us back and forwards to Llangollen North Wales where we both used to work in the Chain Bridge Hotel. Perhaps you know that Hotel. Anyway it was a very reliable Car and withstood all the heavy Weather Blizzards the lot. I have never liked Ford Cars really since then. This was the best model ever. My Husband sold it much to my disgust. I love Towyn by the way I am really potty about Wales and no one believes me because I live here you know. They seem to think that I should like Spain much better. I would love to be able to go back and live in Wales if I could. I love the red brick Houses there and the People. blwyddyn newydd dda, Feliz Año Nuevo 2011. Happy New Year in Welsh and Spanish toma ya. xxx



•
31 Dec 10
I ADORE the Chain Bridge Hotel!! My husband and I have stayed there about five times to celebrate our anniversary!! We had rooms overlooking the river and used to love watching the steam trains that stopped there when they were running the 'Dinner Train' !! I used to live in Widnes, which was only about 30 minutes away from the North Wales border and have spent hundreds and hundreds of hours in Wales, it was our usual place for holidays - Colwyn Bay, Llanduddno, Conway,Cricceth, Caernavon, Angelsey, Bala etc etc. My husbands auntie and uncle owned a little cottage high on the hills outside Caernarvon in a little village called Carmen!! We never actually owned a Cortina (or Nickatina as they were called where we lived because of the amount that were stolen and ended up in Liverpool!!)but we did have several Consuls which were similar! A happy Hew Year to you too!!

• Pamplona, Spain
31 Dec 10
Hiya chem, Well I never like just kiddin there a bit ow the Welsh speak like. Wow we might have met and never have known it then. I might have been working there and you staying there as well. Yes I have cleaned all those Rooms the whole lot in a whole morning. My Husband was co Head Waiter and the Head Waiter was another Spaniard from Galicia his name is Andres. Carmen that is an unusual name for a Village in Wales. My eldest Son went to a local Village School high in the Mountains called Llantysillio hows about that one. The Welsh Headmaster was one of the nicest People I have ever known. So intelligent and tolerant. My Son did get to speak Welsh but now does not remember a word of it. He used to hate going to School but never wanted to come back after

. I have never been to Widnes have been to Scarborough and fell in love with it. There are places in England that can never be replaced by places in Spain they have their own magic. I love the River Dee and used to watch the Salmon jumping upstream. Never got time to see the Trains though as I had a very busy morning and was too tired in the Afternoons. I did used to cross the Bridge loads of times before it was closed off for safety reasons. At the end of the Bridge there is or was a kind of Shelter before you got up to the House or the Cafteria I think it is now. A Welsh Monk was murdered there about 850 years ago in that very spot he was robbed. I did feel something there but never knew what it was till my Friend Lorraine so very nicely told me one Day. That was nice of her and it made me a bit anxious about going over the Bridge in the Dark but then I shook it off and went back again after to see her.

•
31 Dec 10
Oh and of course I went to college in North Wales! I went to Kelsterton College (now called Flintshire College) in Connah's Quay, I lived in the hostel which was a really old house that had once been the manor house - ah happy days!! Yes I have crossed the bridge too, in fact I have an old cine film of me and three of my kids going across it, oh and the Horseshoe Falls and Horseshoe Pass too!! Oh I miss Wales, since we moved I don't go there any where as much as I would like to!


• Italy
31 Dec 10
ROFLMAO!

Hilarious!

I never had a pedal car - but I did have a tricycle with a boot in it!

That was around that time too so does that count?

•
31 Dec 10
I think it can count, it was your first set 'of wheels' - after your pram of course!!!!

I have had such fun looking at the old photographs - they have brought back a lot of memories, I'd forgotten about the old caravan really - all I can remember about it is the smell of Izal in the chemical loo!!!!

• Italy
31 Dec 10

Oh caravans bring back many memories too - and the smells come back with them too like you suggest. When I get my new printer/scanner then I have photos of decades ago too and I have an idea that I might even be able to show you my bike with a boot

Happy New Year oldchem!

• United States
2 Jan 11
I do remember those toy cars being around when I was a kid but I don't think I ever had one but I did play with friends that had one and it was really cool. Now my first actual car was a 76 Chev Chevette. It was a run down little car but it worked for me while I had worked to save for a decent one. In other words, it ran well enough for me till I could afford something more trust worthy. lol

•
1 Jan 11
A red pedal car very much in the sixties style of racing car. Red, single back seat only. Around 44 years ago. First motorised one? Triumph Toledo 1300. Light blue with square front spotlights. Coast around £560 in 1982(?). PUE741M. If I have not mentioned before, I have mow been in the new job three days! Happy New Year.


• Australia
1 Jan 11
my first car that i really bought by myself by using my own hard-earned money is in 2005... that was when i got married with my hubby... it was a toyota corolla altis hatchback manual... and i can still remember it... but if you are talking about my very first car from my childhood, that had to be my 4-wheel bicycle as my parents never bought me a toy car when i was a child... take care and have a nice day...

• Philippines
1 Jan 11
Ahahah that is so cool. I saw in our family album that i was riding in a car too with my brother on the driver's seat! I'm not sure if that car was ours or maybe it was just borrowed because at that time, we couldn't afford that kind of toy. I wish we could all have a blast from the past and see how life was then. I am happy to see that photo of yours lol!


• United States
31 Dec 10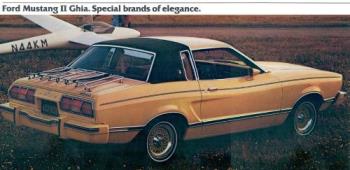 I never had one of those awesome convertibles when I was young. I had to wait until I was 22 before I got my first car. It was a Datsun 510. A four-year-old car that I paid $2,000.00 for. In the two years that I owned it, I put another $2,000.00 into it because it kept falling apart. I had bought a lemon... my very first car was the worst experience I've ever had with any vehicle! I remember hearing the traffic report on the radio while I was on my way home from work one day. On this report, they announced a vehicle that was blocking two lanes, east-bound on Northern Parkway. THAT WAS ME! I had been changing lanes when my car decided it just didn't want to budge another inch so I was half in one lane, half in another, and blocking both lanes. Luckily, that road had three lanes so traffic was able to go around me and around me they sure went. NO ONE stopped to ask if they could help in any way. Typical. Very sad, too. Luckily I was able to get it started after about five or so minutes. It wasn't much after that when I had had enough and went to buy a new car, after first stopping by the dealership where I bought this lemon and finding the salesman who sold it to me. I chewed his butt out! Right in front of another potential customer, too! I didn't care who heard me. I was pretty well pissed! Not only did this car need towing 15 times in the two years that I had it but it had come with an extremely bald spare tire... bald down to the canvas! Yes, this salesman took advantage of my naivety (or my total ignorance of shady salesmen) and sold a car that should have gone to the junk heap!

I'd love to forget about that car completely one of these days. My SECOND car, now, that was a bright yellow Ford Mustang Ghia, the best car I've ever had. Everyone said "That car is so YOU!" and it was. I loved that car but, once kids started coming into my life, I had to have a more sensible car with 4 doors and room for tons of groceries.

I'd get another Mustang but I wouldn't be able to get out of it once I was in... those bucket seats are murder on old bodies.


•
31 Dec 10
Fancy being a traffic announcement!!

I think we've all 'been there, done that' with buying our first cars, for one thing I don't think we ever listen to our elders but follow our hearts!! We have just changed our car today, we've opted for a 7 seater people carrier as we have grandchildren visiting so often we just never have room. We have had people carriers before and got rid when we moved but somehow we never seem to have enough room!!