what is your favorite disney film and why,

7 responses

• United States
18 Nov 06
I love the FOX AND HOUND Why I don't know I just think it is the sweatest movie.

•
18 Nov 06
thanks for your reply, i do like f & h, and i think the older films have more of a feelgood theme to them


• United States
12 Jan 11
It used to be Lion King...I just love Simba and all three movies are great but the first one is the best! However, with the release of Tangled I was amazed at just how good it was and it quickly took first place in my favorites book! I have seen it in theaters three times and I can not wait to own it on DVD. I have the soundtrack and I am anxiously waiting my trip to Disney World so that I can get pins and all other sorts of Tangled merch. Its just so amazing. I feel like im 10, but I am 23 and this movie is just fantastic!

• Italy
31 Mar 08
yes..disney movies are nice as animation movies in itself!!the newest ones as pixar are very nice to see and considering others about the past dysney cartoon i liked the little mermaid , nemo also beauty and beats was charming as cartoon!!!;)

• Philippines
16 Dec 06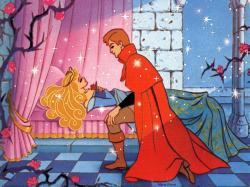 i love sleeping beauty, i remember that it was my 1st disney movie that my dad bought me and i watch it all over again