Last night in bed...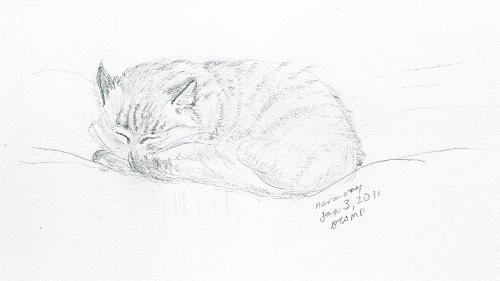 St. Catharines, Ontario
January 4, 2011 7:02pm CST
Guess what I did last night that I haven't done in a long time... (Get your minds out of the gutter!) I sketched Harmony sleeping at the foot of my bed. I haven't done any serious drawing in a very long time, and it felt really good to have done it. I had been listening to a radio interview with Lynda Barry, about two of her books What It Is and Picture This: The Near-Sighted Monkey Book, and got all inspired. What did you do last night?
10 responses

• United States
5 Jan 11
Hi Barb, good for u. The only thing i can draw is a mean smiley face, lol.I did my usual piddle on mylot awhile & watch tv. I lead such an exciting life.


• St. Catharines, Ontario
5 Jan 11
Try different hairstyles or hats on your smiley face, and you've just expanded your repertoire!

• St. Catharines, Ontario
6 Jan 11
You could probably draw a snowman, too.


• St. Catharines, Ontario
5 Jan 11
Well, knowing the trouble you have at times with sleep, I guess you had a fun night, too!

• St. Catharines, Ontario
5 Jan 11
See, you
did
have fun!


•
10 May 11
I haven´t drawn anything apart from pictures with the kids for a long long time! Last night after dinner I intended to write today´s to do list and review a couple of lists. Unfortunately I woke up this morning without having looked at anything ...

• St. Catharines, Ontario
10 May 11
So how did you know what to do today?

• Pamplona, Spain
10 May 11
Hiya BP, Me I got to seeing a part of a Program that I had recorded on Sunday Night it gives a lot of insight to how other People in different parts of the World live their conceptions of us and their opinions too. My Hubby was busy creating some more Web Pages so I decided to see that program as I cannot bear to even hear the News a lot of the time only the essential. I loved what I watched and it gave me food for thought and a lot of it. That´s what I did last night I could not get to post on here properly but I spent my time watching something that is full of fun to learn about and it´s for real too none of those "stand up" programs where everything is rehearsed. Don´t always get much time to see what I want to see so it was a bit of a luxury for me. I did not do any drawings or anything like that but I did take in a lot of things yes.




• United States
9 May 11
Well last night was one of those nights where I just kicked back and watched some TV and a movie with my husband and relaxed. I am actually considering getting off here and going and spending some time with him for a little bit again.

•
8 Jan 11
hmmm, last night in bed?!! I read for a short while, played a little on my laptop (facebook - just to keep on touch with the world outside)and then knitted for a lot longer than i really should have - I always say to myself that this will be the last row before i go to sleep but then another one seems to be started and before i know it, it's a couple of hours down the line!!. i always like to have something to be doing because no matter how tired i am - and i always am - I never stay asleep for long. I think you may just have inspired me to get out my pencils and start drawing again. :-)

• St. Catharines, Ontario
9 Jan 11
No wonder you don't sleep much... you're too busy doing other things! Have fun drawing.

• United States
5 Jan 11
OMG...what a BEAUTY!!!

Looks like you have Peace & Harmony all rolled up into one!!!

You are soooo blessed to have such talent. I've always wished I could have your ability, but I never developed the talent.


• St. Catharines, Ontario
5 Jan 11
Then you should read Lynda's book Picture This... Everyone can draw, but most people self-criticise themselves into thinking they don't have any talent. What do you draw when you doodle? Most people will doodle something when they're on hold or in a boring meeting... be it hairy eyeballs or palm trees or just cross-hatching.

• Canada
5 Jan 11
My husband and i watched a movie from Netflix...Bliss. Needless to say my son was in the basement watching one of his movies while this one was on. Anyone watch Bliss, the movie, before. About a wife who finds out she was sexually assaulted while young....and the husband and therapist try to help her have the big 'O" again???? Anyone see this?

• St. Catharines, Ontario
5 Jan 11
I haven't seen the movie... don't think I've even heard of it before. When I hear the word "Bliss" I think of the poet, Bliss Carmen. Also, the younger brother of my first "sorta boyfriend" (twelve year olds didn't date in those days).

• Philippines
5 Jan 11
Nice sketch! Nice kitty's name, too!

I had fun watching the Great American Circus Last night.

Favorite acts - Crossbow shooting (couple positioned 8 crossbows, husband shoots first crossbow, which releases another bow, which hits another crossbow, and so on...final bows shoot two apples, each on top of the heads of husband and of wife!), Flying trapeze act of Rebecca and tribute to MJ. Fun!

• St. Catharines, Ontario
5 Jan 11
Thanks. I wasn't sure how well it would scan, being done only in pencil. Sounds like you had fun last night, too.

• Shingle Springs, California
24 Jan 11
Seeing as "last night" was three weeks ago, I don't have a clue. But I think it was the night before the twins had their last day of break, so I probably stayed up late knowing that it was my last night to sleep in for a while. :D