Card 0-The Fool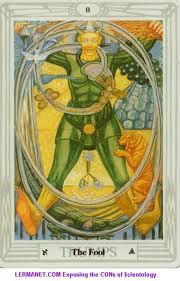 United States
January 5, 2011 10:08pm CST
I have decided to do a series on the Major Arcana of the Tarot as I view them. There is no right or wrong way to interpret the deck so these will simply be the cards as I view them to help newcomers learn the deck, as well as those who are curious about their readings to understand them better. Of course, to make this a discussion I will have one single question for each card but do feel free to ask more questions if you have them. Namaste-Anora To me the Fool represents the start of the spiritual/magical journey. Yet, in another breath it is the connection between Wisdom (Chokmah) and the Crown (Keter) where we are already at the end. At the start of our spiritual/magickal journey we are closest to enlightenment, to spiritual awakening and yet we do not know this because of our innocence on the path. It is said that children are in this state of being on a daily basis, and perhaps that is why so many spiritual teachers in the past have used the statements of being child like in their writings and talks. In modern day definition a fool is typically defined as a stupid person or an idiotic person. It is defined as a person who may be weak-minded or lacks judgment. It is an unfair definition that has come upon mankind in general society and may in itself be a definition that lacks judgment. For the Fool in the Tarot and spiritual world is not stupid, nor is he idiotic. Though, as he is at the start of his journey he very well may be mislead by those around him, or not have enough experience to make the best choices. In a reading the cards all depend upon the cards around them but we can look at each one individually to understand the cards around them, as well as the card by itself. The Fool represents the start of a new journey, this could relate to your spiritual walk, lifestyle, career, or any host of "new journeys" in one's life. The Fool is always eager to begin, to dive right in so to speak and this is always a positive. It reminds us to stay open to the opportunities that life presents us. However, it also is a cautionary card because as mentioned the Fool lacks the experience of life and education. He may lack the necessary discernment needed that perhaps someone who is an adept would already posses. Keep in mind though that the Fool on the Tree of Life is located between Keter and Chokmah so it is the connection between The Crown (just below the three spheres of negative existence) and Wisdom. The Fool must trust his inner connection to the these two facets, to the Divine, to his own Divinity when making these choices. It is a card that is telling us to bravely step forward but be always aware and mindful of one's surroundings. Question: What is does the Fool say to you? How does the Fool apply to your journey at this point in time?
8 responses

• Canada
6 Jan 11
I don't know Tarot much, I enjoy astrology more but since there is lesson behind everything then a divination tool shouldn't be interpreted either good or bad I noticed that every time I pulled the Fool card I was in a situation where things are uncertain and I would rather wait for more information This works with me all the time, not only in regards to spiritual life the last time I pulled this card was when I made a mistake paying for a delivery they did deliver the items I bought, but charged me more due to fine prints I didn't read oh well, I rush into things sometimes!

• United States
6 Jan 11
Mel- Did you do the reading yourself or did someone read them for you? I suppose that is one of the lessons of the Fool is to be more aware of our surroundings and try to be a little bit more conscious of what we are getting our self into. Obviously we cannot know all the minute details until we are in the thick of it but if we work on paying attention all of the time we may find that we are less likely to run into problems caused by a lack thereof, though I suppose as the old song goes "Everybody pays the fool". Namaste-Anora

• Canada
6 Jan 11
I pulled the card myself. I have used the same service before, and they did charge me extra. So not only I missed the fine print, I didn't even remember about the extra charge on the previous delivery. Like a 'fool'

The delivery arrived in the afternoon the next week or so. In the morning I pulled a card and it showed Hanged Man. Indeed, a situation I can not avoid easily. I could not avoid paying for the extra fee, could I? If only I pulled the Fool card
before
I made the payment, it might have not happened. Maybe I would think twice, not rushing into it. I used to rush into things and most of the time things went smooth. So the Fool card to me, is a good sign not to think twice before doing anything. Either way, lessons learned


• Canada
6 Jan 11
typo: is a good sign to think twice

• Australia
11 Jan 11
I'm wondering where The Fool stands in relation to someone of advanced years or who is not living an active life? There are hardly any journeys being taken either physically or spiritually. I have no idea what Keter or Chokmar are.

• United States
11 Jan 11
Ms. Tickle- When we stop learning we stop living. If you believed that you truly had nothing to look forward to, why would you be on Mylot a place for learning and sharing experiences/information? There's a good saying from a show that went something like this, "When you can't walk you crawl. When you can't crawl, you find someone to carry you". We can apply this to both physical and spiritual journeys. If you are in a wheelchair there is always someone who can push you, as an example. There are always online groups for spiritual connection, it is simply a matter of taking that first step to reach out. Keter and Chokmah are spheres on the Tree of Life in Kabbalah. Keter represents The Crown, the highest most sphere, the closest to the Divine. It is located below the three veils of negative existence (Ain (meaning nothing), Ain Soph (meaning no limit), and Ain Soph Aur (meaning limitless light). Chokmah represents Wisdom. It is located on the right hand path of the Tree of Life. The following is a link to the Golden Dawn version of the Tree of Life to take a look at to help you form a better visualization of the associations. The reason I mention the Tree of Life is because the Major Arcana are laid out on the paths between the spheres on the Tree of Life. So it has become an important aspect for the study of the tarot in most of the Western mystery traditions. http://www.donaldtyson.com/treeseph.html Namaste-Anora

• Australia
11 Jan 11
Namaste Anora...I have known rejection all my life. I try to no longer subject myself to the possibility by asking for help. It is this which has led me to my life today. I'm content to live and learn, to journey through my window each day and see Mother nature playing and working. I so agree with you and I try to constantly learn every day. Most days I'm overwhelmed by life's abundance. I don't see this as a physical or spiritual journey though. I see it as a blessing of my life that I have the abilities to see, hear, smell and feel all that is going on around me. I cannot see how the fool is a good fit should he show up in a spread of mine. Thank you for the other info, it's somewhat over my head.


• Romania
6 Jan 11
The Fool is definitely a card I'd like to see more often in my readings, and it never comes up. Along with the Magician, if possible, but I won't mind if the Fool shows up by itself, at this point, I'd take any card that hints at creativity and new beginnings. (It's been four years of readings that show I'm stuck - which I am - to explain my frustration. Four long years of getting the Hermit in every single reading, it's driving me nuts. Grrrr....) For me, the Fool is a card of freedom. It says to me "I'd rather believe, love, cherish, try - and make a huge mistake in doing so, then stay safe and miss on everything life has to offer". It indicates crossroads, alternatives, choices, roads open ahead - and the dangers of leaving the safe path.

• United States
6 Jan 11
Ro- That is interesting that you would like to see the Fool or the Magician instead of the Hermit as the Hermit is farther along in his studies than the Fool or the Magician. Though the path of the Hermit is a lonely one. It allows us time for introspection and learning. The Hermit is guided by his own inner light. Namaste-Anora

• Romania
6 Jan 11
Well, I just want a break from the Hermit

I'm trying to change a few things in my life right now, and a bit of encouraging from the cards would be welcome. The Hermit I guess will always stay with me, it's been sort of "my card" all along, I get it in all the readings.

• Boise, Idaho
6 Jan 11
Being aware of the Fools surroundings is a very good description. My mother once tried to describe to me the difference between stupidity, ignorance, and dumb. Ignorance was a lack of knowledge where stupidity was the lack of knowing there was knowledge to be had and dumb was just not caring. I think the Fool hits in the ignorance category and the path to find knowledge. And it works well in this instance to take in all the other cards in that knowledge. Makes sense to me.

• United States
6 Jan 11
CE- I think that's a good way to look at it in terms of the differences between being ignorant and stupid. Namaste- Anora

• Boise, Idaho
7 Jan 11
I think so. To have a handle on the basics is a good thing.

• United States
8 Jan 11
I really don't know anything about the tarot so for me it is going to be quite eduactional to learn what the meaning of the different tarot cards are. Based on what you've said about the fool being the start of a new journey, I think that it represents the fact that when we start new endeavors in our lives there are going to be times that we don't make the right decisions and that is the reason that the fool represents a new journey.

• United States
10 Jan 11
Dorann- That is right, it is a new journey and we'll have choices to make. One of the things the Fool reminds us when we actually look at the imagery on the card is to surround ourselves with those will guide us in the positive. This may be literal physical teachers, but it may also be spiritual/ethereal teachers. Namaste-Anora

• United States
7 Jan 11
I'm thinking the fool will always be in my cards. I have a great passion for learning so I think it will always be there for me. My thirst for knowledge has to be a magnet for the fool card..lol....I know nothing about the cards either but I have always been very curious about them...and the fool flips..lol. To what extent can the cards read you? Just curious..

• United States
7 Jan 11
Jen- I think that for all of us we each are on the Fool's journey, some of us are just further along than others, that's all. I've been reading Tarot for the last 7 years and enjoy doing so. I have had some difficult readings but they have been good guides for those who requested the reading. Tarot is never set in stone just as our life is never set in stone. Readings simply allow a person to see things as they are, and they were they might go if the same course is taken. Namaste-Anora

• Bhubaneswar, India
6 Jan 11
Namaste Anora, I never encountered anything so deep wrt Tarots, reading the above, I feel, I should be following up the series you mention above.

As we start getting into the world, we stop doing many things and get many masks for us just to survive. The Simplicity of life gets lost and such acts seem to be foolish. in this, we close many doors that actually could have remained open. The Fool (of todays world) is more open, more honest and doesnt go by the inhibitions. the Fool sees things in his own way and doent care about right or wrong, good and bad. I am at this point of life right now - I dont think the way I am expected to and I dont live the way I am expected to... I am happy. When I was he other way (as the world wanted me to be) I was having more miseries and problems. Regards, theSids.

• United States
6 Jan 11
Thesids- Thank you for the kind remarks and I hope all will enjoy the series as I complete each card of the Major arcana. I think you hit the nail on the head about the Fool not caring about the societal views or doing what society wishes him to do. He's willing to on a leap of faith take that step and do what he feels is right. I am glad you are now living a happy life! Namaste-Anora

•
6 Jan 11
I know nothing about tarot but I do have an observation on the fool who was much more than the figure of idiocy that the modern day term describes. The fool had to walk a very fine line between advisor and entertainer. He may well have his origins in medieval troubadours who included several kings and princes amongst their number. The fool provided an observation on the affairs of the time and also sought to enhance the reputation of an individual by setting his deeds into verse that have in some cases survived to modern times. Much of what we know today about north European early history has come to us solely from such poetry. Set against this background the fool should be seen as a symbol of perspective (although not always an entirely impartial one) and diplomacy. A skill worth aspiring to and emulating rather than the buffoon and prankster that he is usually represented as. The Tudors are partly responsible for the reduction in the Fool's status as by the 16th century he appears to have become much more of an entertainer. But still one with the capacity to relay a political message when others could not. Seems to me that the Fool card is not such a bad one to draw from the pack.

• United States
6 Jan 11
pike- Thank you very much for adding in the history of the Fool as entertainer and record keeper (and perhaps PR man). I agree that the Fool is not a bad card to draw at all as it is is a card that when corresponding to the Tree of Life (Kabbalah) is very close to Keter (the crown). I see the Fool as a sign that something new is coming in a person's life and as you said if they handle it with diplomacy, introspection, and diligence they very well may find a great new wealth (be that monetary, knowledge, or the like). Namaste-Anora