Bringal is egg plant?

India
January 11, 2011 10:40am CST
In my home all are fond of eating bringal, i cook it as curry with thick spicy gravy, deep fry in cooking oil and soak that in yogurt, we call it, 'Dahee-baigan'; dahee is yogurt and baigan is bringal We have many kind of bringal, some are big, seedless, light Some are heavy, full of seeds Some are thin, long Color vary from white to deep violet, green, light green, spotty, plain Well this is a FRUIT, but why call it EGG-PLANT, it is not plant lol Do you eat bringal, how you cook, how many varities you have? Anther thing, normally we find crawing insects inside, so be careful while cutting, or else you eat some 'protein' for free, as bonus.. Please respond kalyani
5 responses

• Philippines
12 Jan 11
hello Kalyni, We called that "talong" here in my country. The varieties are of small round ones (looks very cute) in whitesh and deep purple color. Thin long ones and average size not too thick not too thin but longer,also in pale and purple color. With the round ones,we cook that with other vegetables sauted with pork. The thick and long ones,we cook it with eggs...grilled,then peel off the skin and dip in egg before frying....we called that eggplant omelet. We also slice it thin and fried...dip in black sauce,lemon,minced fresh tomato,garnish with ground pepper. That's all i know,but i know that there are lot's of ways on how to cook eggplant here in our country. We also cook eggplant with pork/beef stew and a lot more. Have a good day


• India
13 Jan 11
Hello Jai My hubby knows little Tagalog, which he learnt while in your country, our cookings are almost same as yours.. Thanks for the details, i will try this sunday.. kalyani

• Philippines
13 Jan 11
hello again dear, Nice to know your hubby learned some of our mother language

I love some Indian food,like chicken biryani,naan, mosts dishes from Kerala since i have Keralites friends here in my country and they cook Kerala dishes when i visit them at home. Thanks for the br mark...and have a good day always


• United States
12 Jan 11
I don't know why they call it egg plant other than perhaps the shape? Thanks for sharing how you prepare egg plant. I myself have not found a recipe for egg plant that I like. So if I ever get any what I end up doing is finely dicing it up and hiding it in things like spaghetti sauce so the family will eat it.

• India
13 Jan 11
Lol i am afraid it might get deleted, if you like i can PM you.. thanks for response.. kalyani

• Cambridge, England
11 Jan 11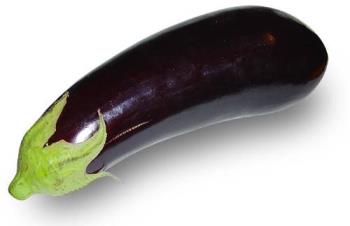 Brinjal is 'egg-plant' in the US and 'aubergine' in England and other European countries. It is known as 'egg-plant' because one variety is about the size of an egg and has pale cream skin. The word 'aubergine' comes originally from the Persian or Arabic, 'al-badhinjan' which is very like your other name for them. They are the same family as the potato and the tomato. In the UK almost the only variety we see is a very dark purple skinned variety which is long, slightly swollen at one end and weighs about 500 - 600 grams. Most often these are grown in Holland (under glass) and it is possible to grow them in England (also under glass). Here they are often fried or grilled. They tend to absorb a great deal of the oil or fat they are cooked in so the preference is to brush with oil and grill them. In Greece they are an essential part of Moussaka - a dish of minced lamb, white sauce and aubergine in layers, baked in the oven.

• Cambridge, England
11 Jan 11
I have seen some of the white (and pale purple ones striped with white) on our market here in Cambridge but they were too expensive for me to even think of trying them! I might some time, though. They are truly a most beautiful fruit! I believe that there are some which are even orange and yellow.

• Cambridge, England
11 Jan 11
I was wrong about them being grown in Holland, it seems (they may be, but not in quantities). I checked in the supermarket just now and they were grown in Spain. At £1.45 EACH, they are clearly not in season yet!


• India
12 Jan 11
Hello Kalyaniji, Recently I learnt that Brinjal's another name is 'egg plant'. It seems you are an expert on cooking brinjal. I don't have any idea to prepare the same in different ways except the South Indian way. Thank you so much for sharing your method of cooking brinjal.


• India
13 Jan 11
Hi Sreeji Today the south indian maid servant here demonstrated the south indian way of cooking dishes from brinjal, it was bit sour.. kalyani

•
14 Dec 11
well, and egg plant is indeed a fruit, just like a tomatoe, sometimes we name things, and later we discover what they are, let us say that a rock came from the inner space, we say its like "rock blariblari" then after many years, someone realizes the name is indeed another, but the blariblari is stuck in our culture, and so it stays eventhough its wrong :P