What you really think about bizarre foods?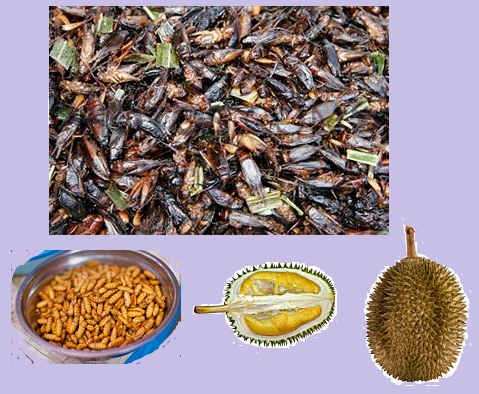 Malaysia
January 12, 2011 10:38am CST
I saw a documentary that introduce the bizarre foods in many country, the host Andrew Zimmern with the show titled "Bizarre Foods with Andrew Zimmern" on the Travel Channel. This guys really ate many kind of bizarre foods like fried insects, animal intestine,durian, bull's eyes, pig's brain, goat's brain and some other food that usually not eaten by many people. It is really disgusting when seeing him eating those things, I really cannot imagine if I were to eat those "bizarre foods"

What do you think about these kind of bizarre foods? What kind of bizarre foods have you eaten before or what kind of unusual foods that can be found in your country?
1 response

• Garden Grove, California
12 Jan 11
hi when I was a kid I was given cows's brains to eat and that really sickened me. Also we used to eat pickled pigs feet and now the veryh thought sickens me again. I do not even like beef heart let alone brains and kidneys.Those may be unusual foodsto peopleion other countries but in the US back in the first depression erta people were gung ho on cow parts.



• Malaysia
13 Jan 11
Hi Hatley, You ate cow's brains? Yuck! I dare not eat animal brains, I can't imagine how it taste like and I can't imagine if I were to eat cow's brains. But this is one of the famous food in some of the country. Pickled pigs feet, is very common in Chinese cuisine. I think those food are uncommon due to the different culture. There are peoples in US eat fried scorpions and fried spiders which I saw it in one of the show, and those people are not lack of a people like doctor and lawyer. They just prepare such a food for them to taste and from their face, I can see that they enjoy it so much. Yuck!