Why so difficult to do work during weekend?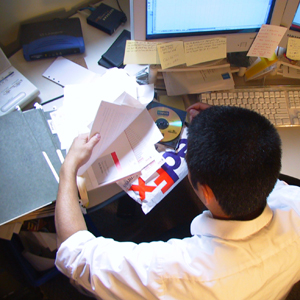 Brunei Darussalam
January 16, 2011 3:09am CST
Why so difficult doing works during weekend?So many interruption...TV, internet, relaxing...i just want to sleep
8 responses



• Philippines
17 Jan 11
I guess for you to be able to go to sleep is you turn off the TV and the internet. You also put your phone in a silent mode so it will not ring and wake you up while you are sleeping . Most of all, relax and don't worry about a thing !

• United States
16 Jan 11
I know exactly what you mean. Sometimes I just lay there in the morning, knowing I should get up to get some work done but the motivation just isn't there. It's hard working from home sometimes because you have to really self-motivate yourself. Yesterday was a no-go for me. I just couldn't wrap my head around things so I decided to take most the day off. For me it's hard to do that though, because I have a few clients I write/work for so I really have to stay on top of my game.

• Philippines
16 Jan 11
Hello msnchatku, I dont think so because in me week ends and week days are all the same for i still have work during Saturdays and one Sunday in a month. Entertainment like TV, internet, etc are all on everyday in the house so its up on me on how to deal with discipline in my health sake. But one thing foremost is my work has been added during week ends coz i have to do some laundry and general cleaning and most especially outings done in these days. So, that makes it heavier in my case. Happy myLotting!!!

• India
16 Jan 11
I don't understand. Did you say you want to sleep? Do you want to work or do you want to sleep? If you want to watch television you can't sleep. You can't do internet and relaxing at the same time. If you want to sleep you need to sleep there shouldn't be any interruption. It is difficult doing works at weekends because your body needs some rest. It's just like a machine that can't work 24 x 7. It is also subjected to wear and tear. But if you want to sleep, that can be arranged easily. Just go to your room and lock the door from the inside.

• Philippines
16 Jan 11
hello, I agree of what you have said. because even I experience it I cant even do my assignment because of interruptions. What I do is to I have time for studying, watching , even using net. I am just being practical doing all things that i have to finish. I half my time for everything. So, be wise. Okay?

• Philippines
16 Jan 11
Hi there MSN Chat Ku! I guess it's because of our mind set that weekends are supposed to be for resting and relaxation. I always find it hard to work during weekends unless I get really inspired.