You know its cold when your nose hairs freeze

United States
January 24, 2011 7:07am CST
Was taking my daughter to the bus stop this morning and when walking outside my nose hairs froze. You know its really cold when that happens. It actually makes your nose hurt when its that cold. I got to my parents house where my daughters bus picks her up and they ushered the kids inside to wait for the bus because its 20 below zero. I hope it warms up by 1:30 because I have an appointment downtown to go to and if its that cold my van will not start.
5 responses

• Philippines
24 Jan 11
Wow really make me feel lucky and quite conscious of different temperatures around the globe, in my country, I know it's really cold when the tip of my nose is colder than the rest of my body

, never thought that nose whiskers could freeze

, thanks for sharing and do take care especially the kids.


• United States
24 Jan 11
I remember when I was in high school walking to school after doing my hair. Since it was wet by the time I got to the school on my approximately 3 minute walk my hair would be frozen. It would take a few minutes of being inside the warm school for my hair to unthaw. I remember then my nose hairs sticking together to. That just feels really weird.

• Philippines
24 Jan 11

yeah real weird, what if you have a setting gel or something? Funny how mother nature really has a way of evening up things. Want to change places? Here in summer, everything seems to be burning hot, even the glass table top when you about to eat lunch so the air conditioner runs non stop,really hate it cause electric bill doubles

, wish you the best and do keep warm.

• United States
24 Jan 11
In the summer it usually is around 80 or 90 here. Not all summers are that warm though some summers its barely been over 70 the whole time. When its 80 or 90 I always have the air conditioner going. One in the down stairs and one in the upstairs. It does run the electric bill up but not nearly as bad as the furnace running all the time during the winter. The electric bill in the winter goes up over $75 a month during the winter.

• Bhubaneswar, India
24 Jan 11
Hi Shaggin, 20 below ZERO! I would freeze for sure. I have been once at 0.4 below Zero and it was too much for me to handle... I am wondering what and how the life would be at your place... Maybe snowfalls (I would love to see the real snow once for sure) and how would you keep the water flowing... It would be all Ice. Just out of curiosity - how do you get the water flowing - At home you have geysers alright but the supply of water - do they have the heaters or insulated pipelines?

• United States
26 Jan 11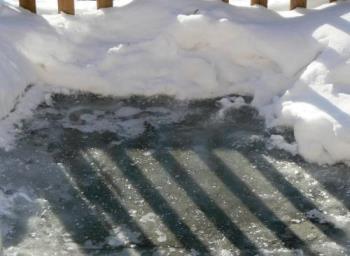 The one day I wrote this the temperature outside was -20. The following day the temperature was 20. Thats a pretty big temperature difference lol. When it is snowing it is beautiful to look at but very cold so I do not like it. I've heard of peoples pipes freezing and they have to let the faucets trickle a flow of water out to keep the water moving inside so it wont freeze. I've never had any problem like that except in the winter the pipes to my dishwasher freeze and I cannot use it so I just wash everything by hand which I usually do anyway even if the dishwasher does work. I attached a picture of what happened the day it was -20. My sidewalk froze to a sheet of ice.

• Canada
25 Jan 11
I was half-heartedly reading your discussion when I chanced upon the word 'nose' in the title, and the word 'picks' somewhere in the body of the paragraph. That certainly peaked my interest!

I know what you mean about nose hairs freezing, but it only happened to me a few times. I remember holding my nose and twisting it. And I imagine hearing frosted nose hairs breaking.


•
24 Jan 11
Ouch, my sympathies for you. I hope it does clear up for you. It hasn't been so bad here, but cold enough that the squirrels didn't come out to eat. Normally we leave some bread or broken bits of biscuit out on a tree stump for them to snack on, and usually its devoured within the hour, and yet its been out since the early morning, untouched. I really do hope it warms up here too, having to walk in the morning to an exam and thawing out in the hall while you are trying to think up differential equations isnt the best way to start a day.