Getting older each year. Is it truly something to celebrate for?

Philippines
February 10, 2011 8:59am CST
Well, Every year almost everyone would reach that date we all call - Birthday! I do hear mixed reactions from different people I know. The question is, we all are turning a year older each time this day comes. Do you guys really celebrate your birthdays? Or what? And is it something to celebrate for?
7 responses

• United States
10 Feb 11
Jacobus1919, I do celebrate my birthday. I don't know why at times, but I know it means that I survived another year. When I was younger, I would celebrate by having a party with other kids. When I got cancer in 2003, I didn't know how long I would be around, so I started celebrating that I was still alive. I had a recurrence of my cancer that I found out about in December, but it has probably been around for a while before that. This year I celebrated that I was alive for yet another year. I look forward to many more birthdays not so much because I am getting older, but that I beat the beast yet another year! Thanks for bringing up the topic!

• Philippines
12 Feb 11
True, surviving another year is sort of a happy moment in one's life and something to celebrate is with family and God.

• Philippines
10 Feb 11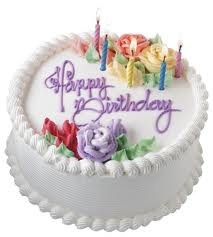 Hello there! Thank you for putting up this discussion. Next month is my birthday and believe it or not, i'm already thinking and planning how to celebrate my birthday. I think turning a year older is just an additional wrinkle on my face

But i don't mind because it's a sign that even though we aged, we became more stronger and experienced in life. What i really celebrate is that another year had passed and i'm blessed, and i will be grateful to God for giving me another year to celebrate life with my love ones.


• Philippines
12 Feb 11
Well, a birthday is something to be happy about but, I still wonder why some people party lavishly just because it is their birthday?

• United States
10 Feb 11
well let me put it this way..if you or anyone finds a reason to celebrate the fact that you are getting older , please let me know !!! lol I dread each b'day that comes around, and I see no reason to celebrate the fact that I am aging and my life is winding down. I realize this is negative viewpoint, and many would disagree with me. There are some that embrace it, and that is great. I just don't personally see how they can. Birthdays are a very personal issue, and I do believe that people make the mistake of depending on other people to make their day special. For example, people gets upset if someone doesn't call and wish them happy birthday, or send them a card. It shouldn't make or break someone's birthday depending on what others do. It's your day, you should find special things to celebrate that makes you feel special, show yourself some love !

• Philippines
12 Feb 11
Well, some people do celebrate their birthdays lavishly which I never get why.

• Malaysia
12 Feb 11
I wouldn't say that I like celebrating my birthday considering that my mother had a hard time delivering me into this world on that day. But I guess I am thankful to God that I get to live another year. I don't celebrate my birthday with a birthday cake but just by going out for dinner and having fun with my family members.

• Philippines
14 Feb 11
I kind of see birthday parties as all right. But, not to lavish and expensive. I plan on spending my birthday with family and friends only. I actually pre-celebrated it a day ago with friends and had fun.

• United States
10 Feb 11
When I think of getting older and needing somoene to help me care for myself. help me to go to the bathroom just to pee. It does not make me want to go buy balloons and a cake. I am 41 and glad I am alive to see another sunrise and sunset. But,getting older is not something to cheer about. You can go visit the elderly and you will be convinced.

• Philippines
12 Feb 11
Well, during this birthday I plan to spend it with the people that matters in a simple manner too.


• Philippines
12 Feb 11
Well, age is not something to be ashamed about.

• United States
10 Feb 11
Actually my youngest daughter and I celebrate our birthdays together. Her's is the day after mine. We at least get a small cake, a card, or just make each other dinner. I believe it is something to celebrate. Each birthday marks another year of accomplishments in life. And I also believe that age is just a number, I turned 51 in January......and don't act or feel it! The saying 'You're as young as you feel" I believe in and live by.

• Philippines
12 Feb 11
Well, I do celebrate my birthday with my family and friends. But I don't celebrate it like it was really special. Anyways, Thank you for sharing. Happy Mylot.