Fruit is Good but what we getting are they conaminated ???

Kottayam, India
February 18, 2011 10:56am CST
Recently people of our country are worried and not purchasing fruits, a good source energy & vitamins.Most fruits are coming deadly chemical sprayed ones.so people are very reluctant to make any purchases for fruits.So nex time when you eat fruits see that it wash fully with hot water mixed with salt.
6 responses

• United States
19 Feb 11
Thank you for the advice. In America we have had some problems with some vegetables, like e coli in spinach and leafy vegetables but as for spraying poisons on the vegetables if you are talking about pesticides and herbicides they do that here too. Though I have been told to give veggies a rub was with baking soda. It is for the most part salt so that still makes sense.

• India
18 Feb 11
Hi Dear Elshaddai ! This is the same story every where in the World. In order to have maximum yield and to protect the crop from the pests the cultivators using chemical agents.These chemical agents may save the fruits from the pests and other enemies but the residual affects of these chemicals have a deadly effect on human health. In addition to this to ripening the fruits again the chemicals are used. To enhance the shelf life of the fruits again the chemicals are used. Chemicals, chemicals and chemicals every where when we buy the fruits for our consumption. So we will have to be very careful while eating them. Either these fruits are to be thoroughly washed before eating or we should go in for the fruits growing organically, which means no chemicals are used in growing the fruits. Only the natural manures are used to grow them! Thanks friend for the information and spreading the awareness!

• Guwahati, India
18 Feb 11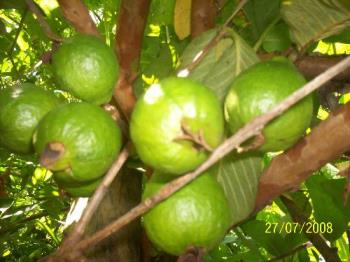 Hi elshaddai, People say, doctors advise to take fruits but the issue is linked with me. When I was still school goer kids I took a lot of them. Banana, guava, mango and almost all. I do not know why now I have no earlier crave for fruits. This is a sometime affair only. I know I have to change my habits.

• Kottayam, India
19 Feb 11
Thanks for the kind response


•
19 Feb 11
to me, fruit comes from the same place and we have been eating it for years so why all of a sudden are people worried about where the food has come from and just eat it. it has never done us any harm in the past so why woory now as its no different.

• Kottayam, India
19 Feb 11
different people different ideas all the best eat good fruits.

• Philippines
18 Feb 11
If we cannot grow them organically or don't know where they came from, then you already gave the best suggestion of washing them, besides soaking, washing with hot water and salt, I think washing in clean
running
water is also a good practice, use a strainer or colander on smaller fruits cause some toxins might be better removed using running water.


• Malaysia
19 Feb 11
Hi elshaddai123, we also aware that it would be harmful to our health if eating fruit without washing it thoroughly as they are still unseen pesticide as well as chemical fertilizer left on them. It's really awful nowadays we couldn't take fruits which we have bought from the vendor and take it straight away like what had done earlier

I know the peel of the fruit is very rich in vitamin and mineral but for the safety purpose I prefer to peel off the skin before serving. Due to the troublesome of peeling I mostly like to take local fruit like banana, rambutan, mangosteen which I could peel off their skin with free hands

My neighbor grows guava trees and I'm happy to buy such fruits from them. I can take them without peeling skin for I know they don't spray pesticide on the plants. Happy posting