Miracle by God: Man, 84, alive after 5 days of getting stuck in the desert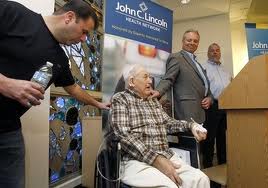 Philippines
February 21, 2011 6:29pm CST
Henry Morello got lost and fell on a ditch then tried to crawl out of the car but wasn't successful. He stayed for 5 days inside his car in the desert near the states major road for Grand Canyon bound travelers.

He forgot to bring water so he opened his wiper fluid container by breaking it with a rock and filtered it with napkin before drinking. He said that he'll never do that again and would bring extras next time. When hikers saw him he was so relieved he kissed one of them saying he's like an angel.

God really does a lot of miracle. He hears our prayers and he will surely bless us and help us when we need him the most. Hope that everyone would surely help others who are in need.

5 responses

• United States
24 Feb 11
If there has ever been a person that had the will to survive, that is what this man had. I don't think that the ordinary person would think about the fact that you could find something to drink if you are able to think with a straight head. Most people that would find themselves in this situation would find themselves in such a state of panic that they wouldn't think to filter liquid materials that they were able to find in their car to maintain their survival.

• Singapore
23 Feb 11
It's indeed a miralce, but i won't say it's god whom saved him. It's his determination to stay alive that saved his life. That's what my bf taught my brother, "believe in yourself and u will be able to do it". Prayers only act as a form of assurance to oneself, giving them some company when they are alone. In actual fact, prayers are a mere consolation.

• United States
22 Feb 11
gREAT STORY, THANKS FOR SHARING. I love helping people in my small way.

• Philippines
22 Feb 11
Definitely God works in mysterious ways. God is and will always be at our sides during the good and bad times. He gives us help through the persona of other people. Truly, we should not give up when everything seems so desolate. Instead, we shoud trust in God more.