Battle: Los Angeles is a Good Movie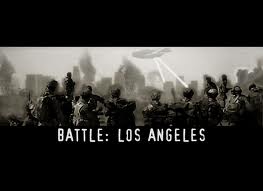 Philippines
March 27, 2011 2:46am CST
Its not as great as Independence Day but its better than SkyLine that I should say. Its a typical armagedon movie but this depicts how the military does it in the fields. How they should fight the unknown and think of other plans on how to salvage the city and fight until the end.

It never occurs to me that I do LOVE movies with themes like this. Just finished watching the Independence day for the NTH time now and I still get teary eyed when Russell Casse gave up his life for all mankind. Hope you try to watch this movie. Its not that great but its a good one. What do you think? Worth to watch on the movie screen or wait for the dvd release? I'd say you can wait but you also try to watch it in the big screen.

3 responses

• United States
9 Apr 11
I did not really care for this movie. I saw it the night before it opened and thought it was ok. I had tickets to the premier. It was more like a SyFy Channel movie to me.

• Singapore
29 Mar 11
I read those reviews about the movie, and it's not a good one. Reviews here for the movie said it's a waste of time watching it, and the storyline is way too fake, acting too stoned. Furthermore, i'm not into movies of these themes, even though i like Independence day, armagedon or whatever. Movie names as well as character do play a part in me liking the movie or not.

• United States
27 Mar 11
I have yet to watch Battle LA, but I am very anxious to do so. I'm glad to hear you say that it is better than Skyline...I mean it was a alright movie but it didn't wow me, I think they could've done a lot more with it. I do feel they same way you do in the movie Independence Day when Russell gives up his life, I get all chocked up but my all time favorite part is when Will Smith punches then alien and says Welcome to Earth. Love it.