Should we practice freedom of speech on Facebook?

United States
April 6, 2011 9:04am CST
I have a Facebook account and so are my friends. I do not use it though as much as they do. Or should I say I use it but I do not abuse it like they do. Yesterday, my girlfriend posted something about her husband being unemployed, playing online games all the time, and doing really bad in school. She wrote it in a form of a riddle and many other friends commented and laughed at her husband. Some even said they love the way my girlfriend talk about her significant other. She does that all the time. What do you think about this?
4 responses

• United States
6 Apr 11
I do not think ti is abuse but stupidity as it will not help her relationship and it shoes how childish she is. Of coarse it shows how childish her friends are as well. I believe in free speech and that includes stupid people saying stupid things and when her husband gets sick of her talk she will suffer for it. Then again if it is all true and he is that bad of a loser then they are all childish.

• Philippines
6 Apr 11
Well it is sad that people tend to convey their most secret feelings in facebook that they don't really care or even think that they might hurt themselves or some other people. I have seen post especially from girls that mock boys who try to court them which is really sad. ( I think this one has a lot on failbook lol)

• Malaysia
6 Apr 11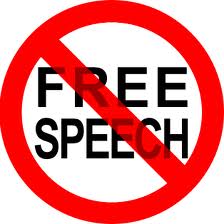 i guess beside putting up funny and bad statements a person can email also to friends and such, so if u want to ban freedom of speech then u should ban the whole internet.However, freedom must comes with responsibility.Hatred and discrimination and false rumours and fraud statements with criminal intention should not be allowed in the internet.

• Canada
6 Apr 11
I don't think it's right to utter threats to people or organizations and don't believe in promoting sick, illegal and immoral things on fb, that should be banned unequivocally. I also think that speaking ill of people on fb is rude (like your friend and her friends did to her husband on fb) but those sorts of comments are not illegal and we can't stop people from saying what they want to say in that regard. If I could't say I hated my PrimeMinister (if I did) I would think my country is sick for taking away my freedom of speech for just uttering an opinion so I don't think they can take it away on fb.