New Wonderwoman costume NOT GOOD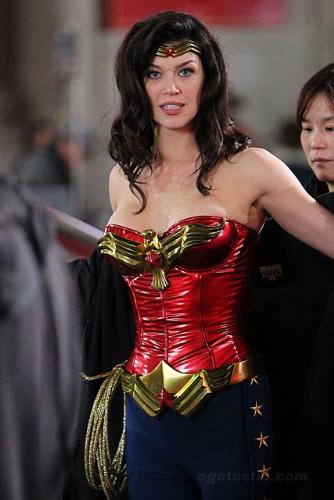 Philippines
April 16, 2011 4:01am CST
the new wonderwoman costume is getting a lot of bad feedback from fans and it should be. i saw the picture.. do people really have to makeover every single old super heroes and introduce another one who's not good to look at all? if they don't want the new wonderwoman to flash some legs then please don't let her flash too much chest as well. she's so tight up there!

what do you think? does her outfit look fab or not and should she wear the old costume?

5 responses

• Dallas, Texas
2 Jul 16
I can see why this never saw the light of day. Can she even breathe with that top? The pants and belt are fine though, but they could have done better.

• Philippines
13 Sep 11
Hello freymind, I don't think it looks bad there but you know our time here in the 21st century, she has to be sexy in her tighs. but comparing to this, our Philippine version which is Darna still has the best looks even with different actress who were cast to this role of darna. well, its up to the producers and special effects to help her make her own version of this.



• United States
19 Apr 11
I can't remember what it was that we were watching over the weekend where they had the two costumes side by side. At that moment, I told my husband that what they are showing as the "modern" Wonderwoman isn't Wonderwoman at all. When I was a little girl I had my own Wonderwoman costume and if that was still around it would be something that I would let my daughter wear. However, with the new costume, I wouldn't ever let my daughter dress up as Wonderwoman.

• United States
16 Apr 11
its just that they do that to every super hero that is female they just want it to be super sexy and it dose not have to be like that she could just be normal without all the latex and boots and all

• Singapore
16 Apr 11
Well I cannot remember how the old one looks like. would you be wearing it for halloween. I think it is still one of the sexiest supoer hero.