Playing soccer on roads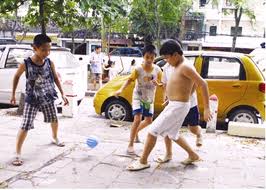 Vietnam
April 18, 2011 10:19pm CST
Children are fond of soccer. But there are not enough fields in this city. So, a lots of them must play soccer on roads or sidewalks. I can see this action every day. It's very dangerous for players and others. But it's poor if we forbid children to play. Have you seen this action in your city?
6 responses

• Romania
21 Apr 11
When I was a child, I did the same and we had fun with my friends doing this.But this is history, I don't see this anymore in my city, nor in my country.

• Vietnam
22 Apr 11
Maybe because there are enough places for sports in your country. So, children don't play on roads more. It's good for them and for passer-by.

• Romania
22 Apr 11
No, it is because children prefer to play football games on the computer rather than going out and play.

• Malaysia
19 Apr 11
No, our city is always full of cars and traffic jams, so I don't think the kids here would enjoy playing there. We do have playgrounds in parks and the government makes sure that every apartment buildings must have a playground. There are also fields nearby schools area and kids can play football there. Anyway, we call it football here and not soccer. In the city where I live, we have a very big field for people to play football. It is very big and sometimes helicopters will land there. It is so big that even a big school or college can be built on it. The roads are all round it and some cars will stop by the side to watch when there is a football match playing. It is like a very big roundabout. Come to think of it, there are actually many big fields in Penang.


• Vietnam
22 Apr 11
Children are lucky and happy in your country. The houses in my city is often small and they don't have yard. There are many motorbikes, cars and traffic jams here too. However, children want to play sports, they can leave them. So, they play them in roads...

• Malaysia
22 Apr 11
I live on a small island and the place where I live in is mostly green and you can see lots of trees everywhere alongside the road. I am glad in a way that our state government is very perceptive about the environment. Kids would always want to play and they don't know much about safety yet as they are still young, unless every parents play their part in educating their own children about safety. And the government also should look out for the safety of every children in their country. After all, they were once children too.

• Indonesia
19 Apr 11
in my town, a street soccer is a famous game. not only children, but also adult play it. yesterday one of them broke a flower pot. i scold them and forbid them to play soccer in front of my house. well, it's only lasted 2 days. after that, they play soccer again like before

• Vietnam
22 Apr 11
Really? street soccer is forbid in my country. Only children play soccer in roads. Adults usually rend a place for sports.


• Vietnam
22 Apr 11
Right. They need more safe places to play sports. It's their powers. But we have not done more things for children here. They still play sports on roads.

• Philippines
19 Apr 11
Here in the Philippines, soccer is still a growing sport. Most of the times I see children here play basketball on sidewalks or maybe other sports too. I've encountered some kids here though, playing soccer on the sidewalks but they don't use a ball. They use empty bottles as footballs. True, it is dangerous for them to play at the roadside, or even at the sidewalk because passers-by might get annoyed at them.

• Vietnam
22 Apr 11
I like children and I wish they can have more place to play sports. However, playing sports on roads are very dangerous for them and I and others. So, I wish they can be cared more about this field. By the ways, I feel sad because children in your country must use a bottle instead of ball to play!

• United States
29 Apr 11
I have seen ball playing in our small streets but because I live in a big city it would be rare that kids would do so on the big avenue streets. While playing on the small streets here, it is dangerous regardless of how small because the kids get wrapped up in the fun and chase the ball without thinking and can run directly into on coming cars.