My friend and her baybhei can spend 2k++ in smoking alone per month

Philippines
April 24, 2011 2:23am CST
My friend used to smoke since she was in high school. She usually smokes every waking up, after eating, on siesta, in her idle time, before going to bed and when she's out for party. Also with her boyfriend. That is their past time. Smoking together...I also smoke but it is very rare in my case...Going back to their expenses, if they will use the money to other stuffs, they can buy 2 sacks of rice, pay their room rate for a month, pay the water and electric bill with a hundred still left, they can do scuba diving or wake boarding inclusive of the fair and food expenses, they can also buy a cellphone to that money,....
8 responses


• Indonesia
24 Apr 11
wow, i'm a heavy smoker. that's rigth if lot of my money was use only for smoke, but i can't stop.

• India
24 Apr 11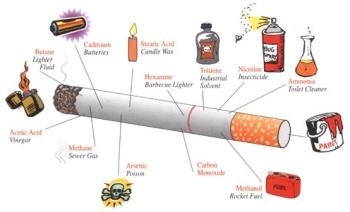 Hi Njamoroso, I really feel its too much

. This shows how much they spoil the health and causing problem to their family health and to the world

. I feel they are addicted probably they can consult rehabilitation centers to get rid of this habit.

• Philippines
24 Apr 11
They seem to take smoking a priority over anything else.

as i think about this, the worst realization your friend and her bf could ever have is that the money they have burned smoking, could have helped them in getting treatment and medications when the other non-monetary disadvantages of smoking sets in. One's health is priceless and the loss you'll get by damaging your health by smoking that much cannot be monetized but surely is valuable.


• India
24 Apr 11
Damn they've got some lungs! I agree its a real wastage of money, but they are so addicted that even doctor can't help them. :| or may be he can, but i don't think they'll like that and i tell you thats no living. They need to realize the danger themselves. It can cause you to fall in major depression, i got out of it cous it was causing me hormonal imbalances and i'm so glad i wasn't addicted.

• Philippines
24 Apr 11
well that is said. There are people who are really addicted that they even smoke while showering! hope she stops not because of money but because of her health.


• Philippines
24 Apr 11
That's definitely the consequence of a person who smokes. He becomes addictive due to the nicotine content. My father before was a chain smoker and he can consume 2-3 packs/day. I really hate that because instead of spending the money for other necessities, it goes to nonsense thing. Aside from that, he also had a mild stroke and heart problem and one main reason is due to smoking.