Kitty is getting a new lease on life as of Monday.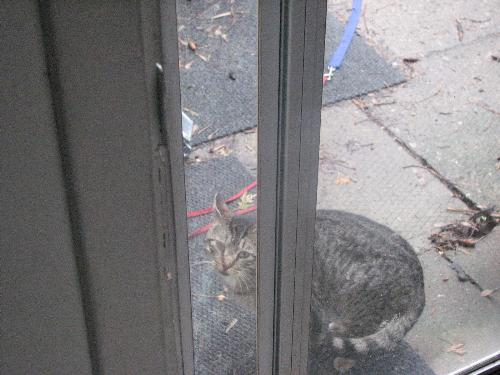 Canada
May 5, 2011 6:44pm CST
I've been in contact with several rescue agencies about the feral cat with the injured leg. I was told by a lady today who runs a rescue that she will be bringing by a huge cage with litterbox and carrier, and some food for her when we have trapped her. Monday night this all goes down. The trap will be put out, and she will be caught and put into the big cage until the funds are raised to get her spayed and her leg fixed up. Despite being feral, there is a good chance that she can be socialized. I believe that this can be done as well, and am more than happy to try it. Since our spare room is empty and now clean, she will be living in there until she heals, and may go downstairs to live if she can't handle being around my pets. I'm glad that this is finally happening, this kitty deserves more than life on the streets. The poor thing has suffered too much lately.
3 responses

• United States
5 May 11
Awwh what a cute cat. By the looks of the picture it appears the Cat is sad. You are so nice to do this. Hey how is the fostering application going?

• Canada
6 May 11
No news about that yet, I just got off the phone with them about the dog situation, that right now is the priority, the fostering is on the back burner now.

• United States
5 May 11
Getting rid of the scum bag has given you such a lot more energy. I am glad you can help the kitty.

• United States
5 May 11
I was just thinking that too, how now with the less worries kris can concentrate on more important things.


• Garden Grove, California
28 Jul 11
shes so sweet I bet you can socialize her and then are you keeping her or getting her a good home? We have five cats out in the patio here at Gold Crest and the admins says do not feed them I sure wish they had a Kris type person to take then in as they are street cats from all appearance. I cannot understand why they do not want them to be fed as to me this is cruel but they claim they will spread diseases? how? we do not go out there whats wrong with these owners? have they no hearts at all? if nothing else find some agency who will save them and find them good homes. one of us gets up at five o clock a.m.

to feed them when nobody can see her.than God for that.