Who Teaches Us To Hate?

United Kingdom
6 responses

• United States
23 Nov 06
I think our first teachers are our parents or those who help to raise us. I was raised mostly by just my father exposed to many different races and beliefs. My father never had an ill word to say. But when I was exposed to my mother at a much later age, I did not understand the hatred words she used towards different races. So I would repeat the word asking her what it meant. Thank you Dad for teaching me the correct way!!!

• Greece
23 Nov 06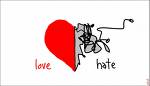 It is due to the Kain and Avel nature we all people have, the yin and yen etc. I think of course that the family environment, the politicians etc teaches us how to hate, who to hate and what to do with our hatred. Sad but one day this hate will make us eliminate our own race.

• South Africa
23 Nov 06
i think we learn it as we grow up


• United States
23 Nov 06
I think we are taught to hate. Small children love everyone until they see and hear other people making comments and they pick up on that.