Mosquitoes are the biggest enemy of my life.

India
May 22, 2011 2:46pm CST
I hate the sound of Mosquito. It will come when we will sleep or going to sleep. Yesterday i finished my work and it was my week off then obviously i had so many work from the morning till night 11:10 PM. Then i went to sleep. But when i went on my bed then Mosquitoes noise started. I covered my ears from the blanket but still i was able to hear the sound of Mosquitoes. Yesterday was really my worst day. I switched on fan but it was of no use. Then i don't know when i slept, untill i get sleep, it seems like i was fighting with Mosquitoes. I hate Mosquitoes alot, what about you friends?
9 responses

• Southend-On-Sea, England
23 May 11
In the summer here in the UK, I use citronella oil to help keep insects out of my house. I soak cotton wool balls in the citronella oil and place them at various points around the open windows. It isn't 100% effective, but I've noticed a dramatic decrease in the insect population which enters my house since I've been using the oil. The insects don't like the spell of it, although I'm not sure how mosquitos do or don't react towards it. It seems to be the noise of the mosquitos which bothers you more than anything, so could I suggest using ear-plugs when you go to bed? They would definitely block out the noise of them. Assuming you live in a warm or hot climate, if you did use ear-plugs, I'd strongly recommend the foam ones as the wax ones would go soft and melt in your ears if it's hot, and that would be horrible as you'd then have to get medical help to have the wax removed. Aside from the noise they make, could you maybe sleep under a mosquito net?

• Southend-On-Sea, England
23 May 11
Sorry I made a typing mistake...I should have said insects don't like the SMELL of citronella oil, not the SPELL lol.

• India
27 May 11
First of all thank you for your patience to write that much of response and also correcting your spelling mistake. I can see very rare people will admit their mistakes very early. Yes i do use ointment which i apply to my body which won't harm to my body at all and i use pair of ear-plugs so that there won't be such kind of noise that i can hear from the mosquitoes.

• Singapore
23 May 11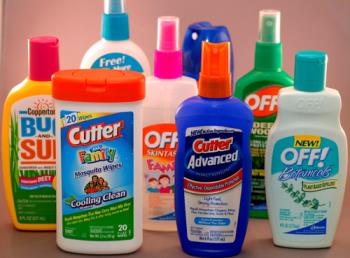 lou_is, You can always get yourself some off the shelf protection products from your local convenience shop or DIY stores or supermarkets like mosquito repellent sprays, insect sprays, mosquito coils and etc.. I can understand your predicament but all is not lost. All you need is to spend some time to see what is suitable or preferable. So, take care and hope you find the picture samples useful for your decision making.


• Singapore
23 May 11
lou_is, You may also want to consider laying up lavenders or rosemary leaves in your bedroom. It is believed these 2 plants have mosquito repellent properties.

Take care and hope your nights are better off henceforth.

• United States
23 May 11
They are really annoying to say the very least. Not to mention potentially dangerous a lot of the time, with the potential that they are going to cause disease. Going outside around here at night, without any kind of repellent to them is really not the smartest idea in the world to say the least. There are a lot of these nasty bugs around here and they are rather putrid little creatures to say the very least for a variety of reasons. They tend to be around here a lot of the time for the warm months. And the one's around here do really seem to really be rather crafty at biting people. Often times, they swoop in, and bite. Pests are rather annoying enough, but those who really are able to swoop in and take a bite, before a lot of people really know what's going on. Granted, you do get heads up sometimes, but if you are distracted, you won't know you got bit, until you got bit. That makes mosquitoes quite annoying to say the least.


• United States
23 May 11
Hi. lou_is. I feel the same way too. I can't stand mosquitoes. That is one of the things that I don't like about the weather when it gets very hot. Especially when I don't have any kind of insect repellent that will protect me from mosquitoes.

My daughter got bitten up really bad by mosquitoes, and believe me her skin looked so terrible. The mosquitoes bit her up really bad too. I am planning on buying the OFF insect mosquito repellent, you can put this repellent anywhere that you are going to be when you feel that mosquitoes will be around.

• Philippines
23 May 11
There are some days that mosquitoes are unstoppable. I could barely see them even I did some smoke from mosquitoes repellent leaves such as eucalyptus and neem tree. I threw some papers with sticky oil to catch them and some electronic racket. I had a two days fight with mosquitoes.I had stand fan and \ceiling fan when I slept.

• Singapore
23 May 11
Hi Louis, I have not experienced such a terrible night before. Even one mosquito can drive me crazy, I cannot imagine having a whole room full of mosquitoes flying about. I think if you keep fish, you do not even need to feed them. The mosquito, and the eggs, will fatten the fish for you.

• Philippines
23 May 11
I think you need to get mosquito repellants or something. They sell them in groceries and handy stores. Some of them even have odorless properties so you won't really feel that you have mosquito repellants on. I suggest you go get one right now, it's very convenient.

• Mexico
22 May 11
Hi louis: I hate mosquitos. I can't stand them. Their noise and also because they usually flew around us makes me feel sick. And they can bite you. Yes I can understand why you don't like these animals. ALVARO