Do you think you should take your 1year old son to Disneyland?

Philippines
June 2, 2011 10:01pm CST
My college girlfriends and I am going to Hong Kong for vacation next year and are in the process of securing promos and tickets for the occasion, it's our first out-of-the-country vacation and everyone is really excited about it. However, the promo of this event is actually a 'pair' type and we should be in even numbers which is a problem since we are 5. Most have married and the rest have boyfriends and one of our friends is without a partner. Anyway, we thought that it's no big deal because we could always look for other friends or sisters or cousins to come with us, however, one of our friends said that it's not a problem because she's taking her baby who would be 1year and 6month old by then. I think that he's too young to be coming with us. He couldn't remember any of the trips and sometimes when kids are in these types of trips, they're going to act out and the parents would spend more time pleasing their kid instead of enjoying. I mean, what is 4days? They went to a trip and left the kid and he was okay with it. Do you think it's advisable for them to bring along their kid? How would you convince her if you were her friend? Thanks!
7 responses

• Philippines
10 Aug 11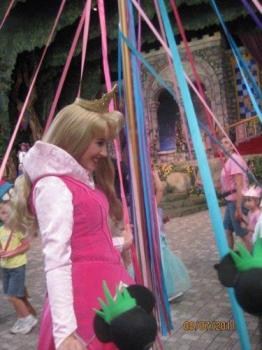 Bringing along a one year old kid to Disneyland is not advisable I think. He surely will not really enjoy it as much as when he is older. Besides, if you will be going there during peak season, the child will surely get irked with the crowd and long queues will surely tire him up. Let the child to be at least 5 years old so that he can already enjoy the thrill and fun of Disneyland.



• Philippines
14 Aug 11
Whew! Sadly, we are going there on a peak period. Therefore, the irking part would surely happen. Whew! I hope I can contain my thoughts that time since they have decided to really bring the kid along. Anyhow, all I can do is to just enjoy my time and just let them handle their kid. Afterall, it was their decision to take him along against our advises. Thank you for your thoughts!

• United States
3 Jun 11
My stepmother invited me to Disney one year. I met her there only to find out that I was to be her baby's baby sitter. I had to take care of her youngest child while everyone else enjoyed Disney. It would have been better if I had just stayed at the house and taken care of her there. She was a good kid, but it was a hassle in the crowd to find changing stations and shade ect. for her. She was only 6 months old.

• Philippines
14 Aug 11
Oh that was really sad. I wished the person told me ahead what I was expected to do there instead of jumping into something I wasn't prepared for, or something that I didn't have a choice about (to take care of that baby). I have seen a lot of people being hassled by their kids and it's really sad that they're not enjoying the trip at all. I really don't want that to happen to us because it's our first time to do this as a group. Thank you for your thoughts!

• United States
3 Jun 11
This one year old would probably interrupt any festivities and rides with constant crying for this or that, a dirty diaper, needing his/her milk bottle, screaming at loud noises he/she finds scary or causes a negative tremor, making loud noises when in a happy mood as all babies do, and trying to fall asleep then be waken up by random loud theme park and crowd noises is sure to make him/her scream louder!

• Philippines
14 Aug 11
Oh I do understand, not to mention the possibility of the kid to get sick with the new place and trip itself. The worst part is the fact that we don't know how to speak the local language. I wonder what would happen if they still force the issue. But as I have said, they're the parents and we can't do anything about it anymore. Thank you for your thoughts!


• United States
3 Jun 11
I think it would be smart of them to wait until their children are old enough to enjoy the trip too. They will find that the young children will be more of a burden. They won't beable to do a lot of the activities because of the children's ages. Best Wishes!

• United States
3 Jun 11
I think it would be a waste since the child is so young but maybe she has to bring the child because no one else can watch the child?

• Philippines
4 Jun 11
i dont think its not a good idea. first he the baby is just one year old, such a trip could be stressful to him. second, he wont appreciate the amusement, for it will only be noisy there for him not a good idea really. third. the people bringing a 1-year old will never be able to enjoy disneyland coz they have to take care of the baby and they wont enjoy the ride...