Gym Or The Park?

Thailand
June 11, 2011 5:30am CST
What's your preference? Do you like to workout in the gym or go to your public park instead? Honestly, it feels different when I run in the park. It feels better. But since it would take me a longer time to prepare and actually go to the nearest park in my place, my usual work out takes place in our gym. I'm just thankful our building has one. What about you?
9 responses

• Malaysia
27 Jul 11
I prefer to spend my time in the park since i can bring along my son together with me go jogging. There is a gym nearby to my home but i don't really like to go there since i can't bring my son along. In fact kids are not allowed to enter gym, so it is hard to find someone to take care him, every time i want to go gym. That's why, i still prefer going to park although it might be quite far from my home. So, most of the time i only jogging in front of my home compound.

• Thailand
27 Jul 11
That's nice my! How old is your son? I'd love to go to the park on weekends too. Just to walk, not really to workout. I love to see folks just hanging out. I find a lot of couples having dates there.hihih.. It's kind'a nice to see.


• Thailand
29 Aug 11
Your son is very lucky then, myfb! Bring him more often so he'll meet new friends as well; and those of his age too...hihihi! I'm sure other moms bring their children to the park like you do, right?





• United States
9 Jul 11
Well , obviously one cannot find weightlifting equipment in a park, unless they developed the ability to rip things out of the ground. So for my area, I would have to go for a gym. I live by a park, but I am only in that area at night, and I already had some crazy experiences right a bike around there at night. The only health gain I got out of that is that I lived to tell about it. During the day, it isn't so bad because there are always runners and joggers, and people playing tennis and yoga. I cannot do anything around there during the day, but after a failed attempt at someone trying to stab me at night, and being shot at, I have to say I am staying out of there at night. I would just hit the weights and gain strength. Maybe the next time I do something crazy like that, I can fight the person, not the armed shooter, though.

• Thailand
27 Jul 11
Hi agent! Looks like you're into bodybuilding.

Are you? I only go to the gym to have a run. I don't lift much weights because I might develop big muscles in my biceps and triceps. I don't want that. I only want a firm set of arms. Any tips you can give me?


• United States
30 Jul 11
To be honest, I never really gave it much thought until someone told me that I had potential to pile on muscle, and suggested I should try it. I was already a big guy and lifting heavy from playing football and overdid physical therapy from a car accident. Then I found myself craving for bigger and stronger. I guess that bug but me as they say. My family doesn't understand why, and sometimes I don't, but it makes me feel good. I am barely a novice (don't know what I am doing),so I am just getting back into the groove of it. I have played with it for a while, but it's time to stop playing and dive into it. I do admit that I am not a big fan of cardio, but I did convince myself that even bulls run, so should I. In terms of advice, it took me a minute to find out what works for me, since we are all different. I don't have any set ideas that will work for anyone (I am barely getting back into this, so I am getting help myself). I wish I could help more, but trust me, I am the last person you would want advice from. I can easily screw myself up, so I try to leave advice giving to those who know how.

• Philippines
26 Aug 11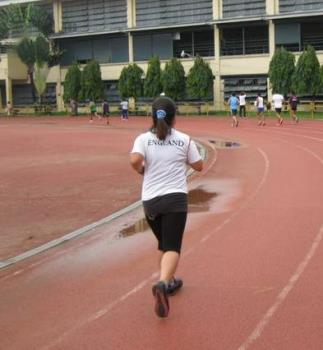 Instead of going to gym I prefer jogging or brisk walking in public park or in any open space where there is fresh air. It is not only a cheaper way to exercise but also an opportunity to breathe some fresh air. Working out in a gym is also good but I don't enjoy it as much as I enjoy outdoor exercise.


• Thailand
29 Aug 11
That's great to hear salonga. As long as we have daily exercise, that's already swell. It doesn't really matter where we do it.hihihi..



• Philippines
8 Jul 11
I really love to walk a lot in the park and do jogging with other people who is doing the same thing as mine and it also inspire us to jog more.I usually don't workout in a gym I just work out here at home because I don't have to do anything with equipments because I enjoyed to follow the moves on the television during workouts and I don't have to spend money just to keep healthy and fit.

• Thailand
27 Jul 11
Hi alquizar! I go to the gym everyday just to run and walk. There are many parks here but I'm just lazy to go there. I also want to stay healthy and physically fit. You're right, we don't have to spend a dime if we really want to life a healthy life. We can use whatever we have at our disposal.


• Canada
16 Jun 11
I prefer going jogging in the park. There is one very nice park near where I live, and many people go there. When the weather is favorable, I would go out there, after I get back home from work, and go jogging for atleast about 30 minutes. That's my favorite way of getting refreshed after a long day at work.

• Thailand
16 Jun 11
That's nice, greenline. I notice most of the responders prefer going to parks. Well, being with nature is really the way to go. It's good that you make an effort to relax and smell the flowers, so to speak.


• Philippines
15 Jun 11
I'd prefer park..its not suffocating and cheaper.

• Thailand
15 Jun 11
If you live near a park, it's very convenient as well. But not for me, I'd prefer going to the gym.


•
13 Jun 11
I like walk around my house.

• Thailand
14 Jun 11
That's great! At least you get to exercise without going out. My father has a little garden he attends to everyday. That's his workout, I guess. No need to go to the park or the gym.hihihi...


• United States
11 Jun 11
Hi beingwell, The gym is good but sometimes crowded and you don't get the workout that you need. Running at the park or my favorite the beach you get that clean fresh air that can clean out your lungs and give that expansion that you need for endurance. When you run at the gym you only get the stale air that's pumped into the gym by the air conditioner or fan. I hope you get out to the park in the near future.

• Thailand
14 Jun 11
I hope so too, djs. It's just not a walking distance from our place. It's more convenient for me to go to our gym. Besides, I usually go there when I know few people or none at all are working out.

• Philippines
30 Oct 11
As you have said the feeling is different when you do it in the park. Aside from the savings you gain when we do it in the gym the air is fresher. Early in the morning is the best time because the air is not yet polluted I guess.