I watched Bruce and Evan Almighty again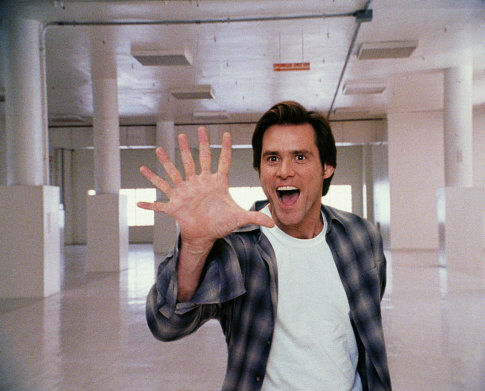 Philippines
June 16, 2011 9:52am CST
This movie really gave me a lesson and inspiration about life and God. It is kinda addictive to watch this two movie because of it's comedy story, and of course the lesson that the movie want to share to many people. The funny scene that I can't forget in Bruce almighty was the scene of Evan Baxter anchoring in news live. Evan is played by Bruce! That's so very hilarious...LOL! So what I learn in this movie is to be the miracle. I know this is not as easy in the real life, but this movie is right that people have the power to bless other people by doing what is necessary right. We are all connected in each other anyway. Well in Evan almighty part, I think the "I do the dance" is still in my head, Steven Carell is a funny man and I laugh many times in this movie. I always remember the saying here; "Act of random kindness at a time", that's because Evan wants to change the world. If you analyze the story, God(Morgan Freeman) make Evan like a old acient man or let say Noah to teach him some some important lesson in life and also to call attention of the people in their state to save from the flood. I love how Tom Shadyac made this film! He is an amazing director... Full of God's wisdom in his heart... So what do you say mylotters in this movie? Did it give an impact to your life?
2 responses

• United States
16 Jun 11
I actually have only seen Bruce Almighty once and that was back in the day when it just come out to theaters. Oddly enough however, an old friend of mine was giving away a bunch of his movies he didn't want anymore back in October. It just so happens Bruce Almighty was one. I got it from him but, I have to admit, I actually never got around to watching it again. That's right, I've had it since October of last year and still have yet to watch it. I do need to get around to it. But yes, I do remember enjoying the movie when I first saw it. Morgan Freeman made great choice as God.

•
16 Jun 11
I loved both movies! They were very funny, full of compassion and so well observed. In both of them, the denoument was wonderful! My favourite bit in 'Bruce Almighty' was when he had to answer everyone's prayers! What a nightmare!

• Philippines
17 Jun 11
I think you will watch it again right? I did watch it again not only to laugh but to inspire again myself with this movie. And yes, Morgan freeman is a good choice to act as God. Thank you for response! God bless you!
@163Mandolingirl
: hello, what's your favorite scene in evan almighty?

• Philippines
17 Jun 11
yes! i already watched that movies, bruce almighty and evan almighty even though it was a comedy movies you learned a lesson on that movies.It shows also in many ways GOD would move into our Life , we don't know when, and if GOD called us to give a task we can't resist it whether we like it or not.Even we were ordinary people we can change the world in many simple things just like Evan did, from ordinary citizen he can be the leader's, and can save the world just like us, some people may think us we are small or ordinary person but in GOD's eye we are big and treasures, and everything we do has a purpose and GOD's has planned for us...

• Philippines
17 Jun 11
I agree, everyone is important because life is a gift from God... like in the movie Lord of the Ring, Galandriel said "even a small creature can change the course of the future". Everyone is chosen, it is up to us how we listen and follow God's command. Thank you honeymalen for your response! =D