Oh my God, a dog there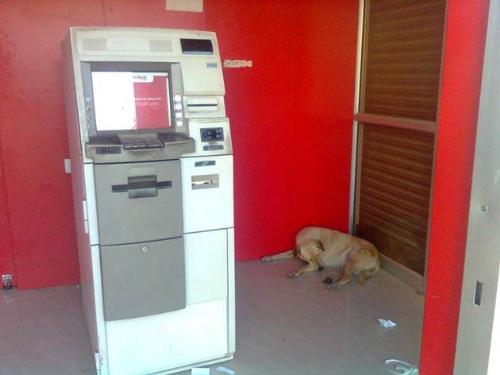 India
July 1, 2011 9:05am CST
Hubby is out, my son has gone job, he will come back around 10 PM, I went to the ATM counter to draw some money, I saw a dog there. I was told by the guard that last night some antisocial broke the door, police has yet to come. This is the situation, I felt sad, went to another ATM, and drew money there. Do you go to ATM counter to draw money frequently or keep enough cash at home, I keep enough but some times there are unexpected expenses, this is marriage season here, I have to buy gifts for some,

give cash to some depending upon relation.

Do you give gifts or cash? Please respond and share your views.
Kalyani 'Namastey'.
. God bless you to enjoy a lucky day ahead.

7 responses

• Philippines
3 Jul 11
hello Ma, We I never encountered such incident because ATM here usually place outside the bank or mall there's a security guard outside or a CCTV camera. I always give gifts instead of cash

happy mylotting


• India
2 Jul 11
Hello Kalyniji,

Here also it happens, sometimes the ATM machine is running out of cash or it is not working etc. But a dog in the machine room is not heard yet, as the guard is there and even camera is there to watch all the customers so I think it is not possible to the guard to be so careless. Usually I don't visit the ATM centre alone unless there is some emergency.

• Philippines
2 Jul 11
I usually have some money for my use but often times I make use of my ATM also. During wedding time we usually give money to newly weds, instead of gifts. Nowadays people need money more than anything. But sometimes I dont like the idea of some who got married, they are spending much to their wedding and nothing was left to them. For me being married simply is the best.


• Philippines
1 Jul 11
hello kal, the bank should be informed that placing a dog beside the atm will make the depositors afraid to even get near it. i wonder why that was the solution made. they could at least put a double guard but not dog. see? you got scared and went to another atm machine! ann


• Philippines
1 Jul 11
dear maa, I keep just enough money and withdraw when needed more. Just like what happened last week when I visit one mylotter. Good thing I just withdraw some cash and I had enough money to buy a new tire. Anyway I am sure bhaby has always enough money to lend me just in case of emergency

We give gifts and also cash depending on how close the relation is with the couples. Blessings from you dear maa


•
1 Jul 11
i'm not afraid of dog as long as i can see that the dog is okay and does not seem to look like it's going to bite anybody. there are those people who are afraid of dog so i think that it should not be there. if some antisocial broke the door...what was the guard on duty doing at that time? i give gifts most of the time but when i have no time to buy, i give money.:)