What would you do if you were a gladiator?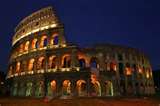 Hong Kong
July 17, 2011 8:36am CST
I always enjoy the movie "Gladiator" since it was a good movie. However, I do have some thought about this movie. The gladiator were slaves who who had no freedom, at all and always need to fight until death. I don't think a normal person would never enjoy a life of being killed or killing others who sometimes has never seen before nor any hatred between that so called "enemy"(someone whose forced to do the same like all the gladiators do )If you were a gladiator at that ancient times such as the Roman era,what do you think you would do ? Keep on killing for survival? Try to escape? Gether a group of gladiators silently and try to rebel the Romans? Share with us.

4 responses

• Israel
17 Jul 11
for the coincidence i watched the gladiator movie yesterday for the 6th time I really like that movie. but being in the position like a gladiator is very hard to be a slave who have to kill for his own life or survival so if been a gladiator I would escape from that slavery because nothing compared to the freedom even if i die when try to escape i would be happy to dying for freedom.

• Garden Grove, California
7 Dec 15
If I were a gladitor I w ould be scared s illy and pea green. I would probably run off and hide some where or better yet steal some women's clothes and pretend I was a woman so Im so glad I was not bo rn in the age of Gadiators.

• Philippines
29 Apr 12
if i'm a gladiator i keep on killing to survive like what you said gladiator is a slaves,i guess killing in the field one of his freedom to survive, to be live and to be alive cause if you don't you die.i hate gladiator time, cause they treat people slaves and not that all they make their lives for fun..

• Philippines
18 Jul 11
If I was a man, I couldn't imagine myself to be a gladiator or even a knight during those times. It's like you didn't have a choice and once you're born to be a boy, you are expected to be groomed to be a fighter like those gladiators. But if I were a gladiator, I might have opted to escape. I hate fights but then I would still do my best to learn battle skills just for the sake of having some background with regards to battling with an enemy. It pays to do some hard work and training but at the same time, I would still choose to live with a family of my own even in the most secluded parts of the forest. You might think I'm a coward... but I just don't like the idea of fighting.