Security for protecting yourself and your property

United States
July 22, 2011 4:43pm CST
Most of the time I have had dogs and felt very safe. I had a German Shepard and then went to Dobermans, mostly because they have even tempers, are intelligent and don't shed so much. Dog hair is an irritant. If I didn't have a dog I am not sure what would be the next best thing. I understand some people have fake dogs in that a recording makes a barking sound and is suppose to fool intruders. I have used alarm systems but I am not sold on them. They are too much hassle when they accidentally go off. I know some keep a gun. I am ok with that as long as the owner is responsible and knows how to use and store the gum properly. On one of my past properties we had thick cactus growing around the perimeter. LOL I read one suggestion of planting poison ivy around the border of your property. LOL that seems 'just'

I wonder what others do to feel and be secure in their property.
5 responses

• United States
22 Jul 11

I couldn't help but laugh at this, because I had made a post today about a failed camp out with my two dogs..Trust me, not only will we know what is going on, but so will the whole neighborhood...


• United States
23 Jul 11
Yep, a bird doesn't sing, a neighbor doesn't come home, and another dog can't go across their radar without me knowing it..



• Canada
23 Jul 11
uI do not have to worry as I live in a safe neighbourhood. One of my renters was thinking of getting a dog, but it would be a small one. Maybe the bad guys would not see it and it would bit them on the ankles or make such a racket that they would think twice of coming in. I do have an alarm system but with two renters who have different work hours, and who might be as nervous as me when it comes to turning the alarm off, especially without the alarm key, that would be difficult. I do not know if our alarm company has keys with just the turn off. It would be easy to turn the alarm on manually and unless I am alone, I would not need the alarm on at night since one comes in at 3 am. Maybe a moat with crocodiles or pirannhas. Not making fun, but if you live in a dangerous area you need all the protection you need. Better still have a camera so you can see who is coming on your property, and a radio telephone so they can say "we're here." Of course, the bad guys would not announce themselves. It must be dangerous where you live.

• Canada
25 Jul 11
When the bad guys try to get on your property and try to wade across, you can ring the dinner bell.


•
23 Jul 11
Our best security is locking the doors and... friendly neighbours. Next door there's a lesbian couple. On the other side is a young couple with a little boy. Next to them it's a couple with 3 kids. Then a guy in construction with his wife and teen girl, then three older guys, then a family of three... the other way is a lady with a Staffie dog, then a young couple... I know them ALL well enough to wave, say hello, stop for 10 seconds to ask how they are. Some of them I know well enough to knock and ask for a cup of sugar if the shops are shut. They all know me well enough to so the same, but none of us invade each other's privacy. If anyone tried to get into any of our houses round here, the Police would have a phone call in minutes. Better than a Dobie.


• United States
23 Jul 11
Knowing your neighbors is such a good idea on so many levels. Not only secirity, but it's just a much more pleasant way to live. Too many people now just keep to themeselves when they could be so enriched by getting to know others around them. Good for you


• United States
22 Jul 11
Currently I do not have any extra security devices and or pets in my apartment. We are not allowed to have pets here, but I do not feel unsafe, I do live with my boyfriend and to date all has been pretty safe here. When I use to own my own home, although it was a good neighborhood, I use to have an alarm system which I found it to be quite comforting since I was there with my kids alone all the time. I never had any false alarms with it and I guess it depends on the types of alarms.

• United States
23 Jul 11
I think having other people live close by is comforting as well. I have lived in houses and apartments and apartments always felt safe. Of course perhaps the fact your boyfriend is there helps too.

I find it interesting that I am a sound sleeper when my hubby is here, but if he goes out of town I am a light sleeper. It's as if I am responsible for the security if he is not here..which actually is true


• Canada
25 Jul 11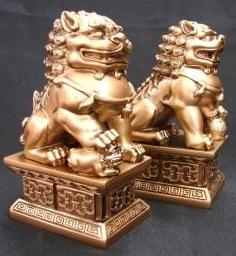 I have a dog, a Labrador, he does bark when theres someone at the door and since he's black with yellow eyes, most people are afraid of him. If only they knew that he's sweet lol. In Feng Shui, they say to have FOOD DOGS at the door to guard and protect. I have those at all my doors and at my dad's also. It might sound silly but I do believe in Feng Shui. Heres a link to the Foo Dogs if ever you're interested. http://www.fengshui-import.com/catalog/Foo-Dogs-31.html