Do you think you will enjoy being a funny spy like James Bond?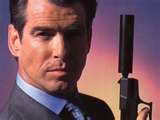 Hong Kong
July 30, 2011 3:02am CST
Commander James Bond, is an intelligence officer of the British Secret Intelligence Service (SIS; commonly known as MI6). He was created in January 1952 by British journalist Ian Fleming while on holiday at his Jamaican estate, Goldeneye. The hero was named after the American ornithologist James Bond, a Caribbean bird expert and author of the definitive field guide book Birds of the West Indies. Fleming, a keen birdwatcher, had a copy of Bond's field guide at Goldeneye. Of the name, Fleming once said in a Reader's Digest interview, "I wanted the simplest, dullest, plainest-sounding name I could find, 'James Bond' was much better than something more interesting, like 'Peregrine Carruthers.' Excited things would happen to and around him, but he would be a neutral figure — an anonymous, blunt instrument wielded by a government department."Do you think you wan

t to be like him, share with us?
6 responses

• South Korea
30 Jul 11
Maybe I would wish to be like him..if I have the skills and intelligence needed for the job..lol and IF I could fine lots of money by risking my life..lol but I do think its pretty cool...

• India
30 Jul 11
No, I never wish to be a spy like James Bond because as Bond was an imaginary hero, he could easily escape threats on his life, but in real life, there is no such guarantee of survival.

• United States
3 Aug 11
If being a spy or private investigator was really as exciting as what we see on television, then I think that would be the kind of career that I would be very interested in having. However, I know that the work is really not that exciting and with that knowledge, I don't think that it would be a very fun career to have at all. The majority of spy work is sitting somewhere just watching a place and that would get very boring for me very quickly.

• Hong Kong
5 Aug 11
Doran, listen to the following real story of a P.I. and you will get to know his work more. In my PI world, my assignment this week is to find a person, who we will call X. X is an employee of a manufacturing company, who sustained a mysterious back injury allegedly on the job. No one witnessed this accident, but X has filed a workers's compensation claim. The employer, my client, is suspicious of X, and thinks X may be filing a fraudulent claim. The employer has learned, through the grapevine, that X has another job. If X is working, X has work capacity and would have no claim for workers's compensation. The problem is, no one knows where X may be working. No one has seen X. We have an address, so I need to work a surveillance on X's last known address. We know the make and model of X's car. It's a 1976 AMC Hornet Sportwagon, an oxymoron if there ever was one. We also have the plate number, and of course X's photo. If X is trying to commit a fraud, X knows that a surveillance is likely. Now unlike TV, my client has a budget. I have 32 hours of surveillance available to find X, hopefully in inflagrante delecto (I always wanted use that in a sentence) at X's other job. So it's time to start the surveillance. Day one arrive in X's neighborhood at 6 am. X's car is not to be found. Spend the next 8 hours parked near X's house waiting for X to show up. Exciting, just like on TV. When I go back to drop off the Chevy Nova, Rick says, "I got a call from the state police about you." "What do you mean, State Police?" I asked. "One of the women in the neighborhood saw you in a different car each day and thought you might be a child molester. She called the State Cops and gave them the license plate of the Volare, which got traced back to me. I knew the Sergeant at the troop and I vouched for you." We both had a good laugh. This never happened to Magnum. The mystery, dear reader, remains to be solved: Was X a man or a woman? Why do you think so? What do you think?


• United States
31 Jul 11
I was a kid when those movies came out. My cousin and I tried to be cool like James Bond. We tried to act suave and sophisticated, especially with the girls. At that time, Johnson Smith Company had gadgets that I would order like smoke bombs and other "secret agent" gadgets for youngsters. It was fun. It also helped me to be brave against bullies, although it didn't help that much against them. Except one time. There was a family of bullies who lived on the other street. I fought one of the boys every summer. One summer, I fought all four (3 brothers and one cousin) of them. I went inside the bathroom and made a solution from shampoo and other things and put them in a squirt bottle. I went outside and told them that I would blind them. They threw rocks and tree branches at me and I squirted the air. They missed and I missed. Then they ran down the street. The next year an event happened and we became allies. After seven years of fighting, we never fought again.


• Philippines
30 Jul 11
I don't think I'm fit to be James Bond. He's just so slick I can't even dream to be like him around the ladies.