Mylot Friends Serching

Malaysia
August 1, 2011 9:06pm CST
There were too many email notifications about the new discussions from mylot in my inbox. Most of the new discussions' topics were not my interest and I deleted them straight away. Recently, there wasn't any single email notification from one of my mylot friends whom I deleted most of his discussions. I felt very surprise and guessed if he was deleted by mylot or not. Then I realized that it was so difficult for me to locate that particular person among my so many mylot friends.. Thanks god, I still could see his name here. May I know if there should have certain improvement for us to search and locate our mylot friends easily?
2 responses

• Garden Grove, California
2 Aug 11
hi aeiou my mylot friends are alphabeticalling listed so it should not be all that difficult to find your friends unless you are like some people here who want everythign instant here,well if you are like me who has over 1000 friends its pages but still it does not take me that long to check if a certain friend is there or not. maybe my age is handy as I am ever so much more patient than younger people. I do not know of a better arragnement then being alphabetized? if we have a lot of friends its going to take a few minutes anyway no matter what. of course there probably is software that could sort through a lot of pages and give us that person in moments if its not too costly for mylot to use it. thats an idea now is it not? I know other places on the net we can get some info superfast. maybe you should put this idea to mylot admins. can never tell you knowl just hit contact, roll down to other and give them your idea on how to find friends faster.

• Garden Grove, California
2 Aug 11
oh my g I forgot to preview typos that alphabet mess was meant to be alphabetically everythign is supposed to be everything and knowl should be know sorry for the goofs

• Malaysia
3 Aug 11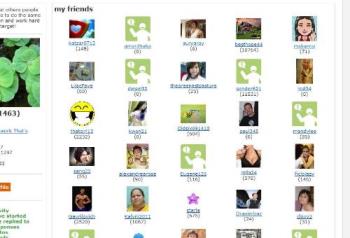 Hi Aeiou & Hatley,
@Aeiou
, I did feel the same when I tried to look or search for someone in mylot. What I can do is only look for the discussion that she/he have responded and from there I can get to the person profile. I have also tried to use the search in mylot but it doesn't work at all.

@Hatley
, You have mentioned that your mylot friends are listed alphabetically, how come mine are not in that sequence, I have tried to search a way to sort it out but it seem that it is impossible in mylot. May I know if there is anyway I can sort mylot friends in alphabetically as you did? You can see in the picture attached that my friends list are not alphabetically listed.

• Malaysia
4 Aug 11
Hey, Hatley, I am very curious to the statement you made earlier. The list of my mylot friends are listed exactly the same as Yspmyl's claimed. The names are not arranged in alphabet neither in descending nor ascending order. I were very difficult to search for someone I want to. All of my mylot friends' names are scattered in a mess at all. There wasn't any way for me to rearrange the names in according to alphabet order. May be someone can tell me a way to manage it.



• Malaysia
4 Aug 11
It is very surprise to hear everything from you because I am not having the same arrangement as yours in my account. Of course, when everything is arranged in alphabet order, it will be easier to locate a mylot friend. For instance, if I want to look for shibham, I can straight away go the the names which start with the alphabet " S ". If I know the excat name, then I can type the name in the search tool which can lead me directly to his or her profile. It is wonderful to have this feature in my account. Unluckily, there isn't.