Having A Garden Around Your Home

Italy
August 29, 2011 7:36am CST
How sweet is to watch if your courtyard has been decorated with ever green bush or flowers! How much do you sime! How sweet it is to sit comfortably under fresh natural air and breath the sweet fragrance of the Jasmine flowers in the evening! As you watch the garen, the green carpet of lawns and frass how romantic do you feel, you may remember the lyrics you have learnt during the school days. en and women love the garden filled with flowers. Once I had arranged an activity to the higher primary class children to cultivate the garden. To my surprise the boys used to take so much interes and just watch the garden before entering the classroom. How nice it is when you are sas and pained by the household affairs, just open the window and look at the flowers just stand in front of them and the mother nature will console you , the new intuitive thoughts inspire you to start a new with a hope to be much better. But how annoying it is in the evening when the mosquitos get in and haunt us from our sleep, even leaving behind big scars! and you will have to spray poisonous liquid to destroy them!! Life is made uo of those realities positive and negative. It is up to each one to make treasure of what has been surrounding us.
4 responses

• Philippines
13 Oct 11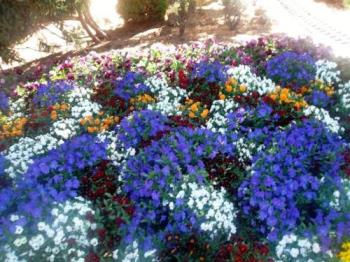 Yes it is just a matter of appreciating the beauty of what surrounds us. But I think it would be easier to do that if you are really surrounded by beautiful things. So I do really make it a point to make my surroundings as pleasant as I it could be by planting flowers and trees all around. I do love plants so one of the things that really pleases me is to be surrounded by flowers and green bush. I love the sweet fragrance of a blooming garden and the cool natural breeze the trees and plants bring.



•
30 Aug 11
I reallyi love your descriptiong of your garden. We used to live in the city until a couple of years ago and only had a very small yard with some pots in it. Now we have moved out into the countryside, we have a garden back and front that this year have filled with many different kinds of plants that we put in it last year. Just after a shower of rain when the sun is shining the smell of the plants is really pleasant. We don't use chemicals either but use some plants that are natural deterrents to pests. We even keep some nettles for ladybirds to lay their eggs. They feed on the aphids that will destroy many young plants and it works out quite well.

_Derek

• India
29 Aug 11
It is good to have garden in our home. It is like a small place with natural beauty. I love it. It take away our tension and gloomy and only remains peace. When the wind passes the sound makes us beautiful along with smell of flowers etc. When we look to the green it relieves from tension. In this busy world we need such thing to deviate our mind from gloomy and sorrow