how to handle stress?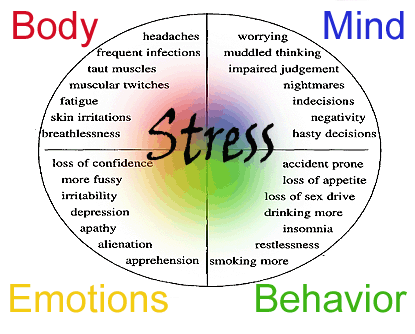 Philippines
7 responses


• Philippines
13 Sep 11
hehe.. funny but true- last time i found my self singing with high notes, then eventually i realized that its just like im shouting. :-)

• Indonesia
11 Sep 11
welcome to mylot my friends i think stress is caused because our mind and our phsical condition can`t support our burden in every daily life.. stress can be caused because of workloading, our feeeling and so on many of the ways for reducing stress are 1. enjoy your life...Enjoy every second and every minutes your life...Life is so beautiful..sometimes you get "examination" but it`s one way from God to prove if you can be mature or not 2. life with a happy people..i think it`s funny, but when you had spent many your time with a happy people and optimistic, it can influence your mind...sometimes it can change your opinion about life..Life is not only offering us happy, but sometimes make us cry, but we must accept it as part of our life

• Kiryat Ata, Israel
30 Oct 11
I found that working with my dad is very stressfull , I really grind my teeth and my heart pulses are stronger and not regular when with him. Some of the reasons are (1)He makes a lot more tasks than it seems in first place. (2)I can never know what I will have to do when he is around. He can ask for hard work without notice. (3)He never compromise. To prevent that pressure , I decided to tell him how his attitude affects me , and to start become more nice and think forward , think about ways how to prevent unneccessary work like cleanings over and over...and the most important thing , to tell me exactly what we are going to do and to commit about it so I can get ready.

• India
14 Sep 11
Best way to handle stress is to give your work to JESUS CHRIST. As soon as you enter your office say to GOD that "GOD my work is more stressful to me so kindly do my work and remove my stress". If you pray like that GOD will remove the stress from your work in any way and make it a enjoyable one.


• Bhutan
11 Sep 11
Hi, following are the top ten tips to manage stress 1. Try to exercise regularly. It can help to reduce your stress level. Make time for at least 1 or 2 hours a week to exercise. 2. Write down everything you have to do when you are feeling overwhelmed. Set a time frame. 3. Eat well. Food has more to do with our moods than we think. when your blood sugar is low, we can get crabby and tense. 4.Concentrate on one task at a time. Stressing about work you haven't done yet only detracts from accomplishing the task at hand. 5. Reward yourself for accomplishing things. Acknowledge the work you put in and give yourself a pat on the back, instead of immediately rushing into the next task and creating more stress. 6. Find out the source of your stress. Ask yourself questions: is it your work load, is it a problem with partner? 7. After you find the source of your stress, try to resolve it. Remember sometime it takes few days or few weeks to resolve something and it can takes time to resolve a problem. 8.Get some sleep or enough sleep. Sleep deprivation always skews our perspective, and makes small issues seem more overwhelming than they really are. 9. Listen to the soothing music also can help to reduce your stress level. 10. Eat healthy foods or snacks. It can help to lower your stress. Sometimes stress level is associated with the high blood pressure.

• India
11 Sep 11
Sit in a comfortable position. Keep your back erect Start inhaling slowly . While exhaling, take slightly more time than the time you had taken for inhaling. Repeat this 10 times every day. Gradually increase the duration. This is the most inexpensive way of tackling stress.[b][/b]