Chris Evans in What's Your Number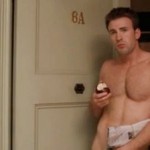 Philippines
October 4, 2011 9:48pm CST
He plays as Chris Evans in this movie What's your Number besides Anna Faris. He plays Colin Shea having trouble with taking the gfs in his life seriously and commitment phobic. I swear I love him when he's doing comedy. I love how he laughs, delivers the lines and he makes me fall in love with his character... Uggh... Loved him first in Fantastic Four

and dreamed about him in Captain America

now he makes me laugh the more in What's Your Number. Haven't watched the Losers yet but found a lot of youtube videos dedicated to his awesome character there Jensen. Anyway back to Colin Shea. I like how Chris Evans delivers his line in this movie. Its like he and Anna Faris got chemistry together. Its a typical romcom but this doesn't have flat moments unlike other romcoms that was done before. I recommend this as a gf movie!

4 responses


• United States
7 Oct 11
I haven't had the opportunity to see What's Your Number yet, but from the previews, it is definitely a movie that I'd like to see and you are right it is a movie that I would like to be able to go and see with my best friend. You see, some of the things that I've seen in the previews for the movie ring true with she and I and for that reason alone, I think that we would both laugh our tails off watching it. Of course, it doesn't hurt matters any that the male lead is so easy on the eyes.

• Philippines
5 Oct 11
Definitely Chris Evans is one of the finest and versatile actors in his generation. I watched him in Fantastic Four and he done a great job there. I always commending him for his great performance. I can't wait to watch this movie, "What's you number." Good luck and more power to your career Mr. Evans!

• United Arab Emirates
5 Oct 11
Oh my goodness, Chris Evans is the best!! I love him since forever. I had watched some of his movies like The Cellular, Not Another Teen Movie, Nanny Diaries, Fantastic Four, and Captain America. He is really hot, lol! I still haven't watched the "what's your number" but I'm planning to go. I watched the trailer and it seems good (and I love RomCom). I just don't know the released date here in my place. I love both of them. I watched Anna Faris in The House Bunny and she is really funny. :)