Liar Game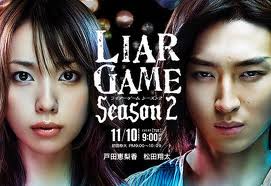 Philippines
October 8, 2011 7:18am CST
Will you lie and cheat other people for the sake of money? Liar Game is about super honest, too trusting and easily tricked Kanzaki Nao who got involved in Liar Game where she was supposed to lie and cheat other game participants. During the first round, she was given a 100 million yen and so was her rival. The objective was to get the money of the rival at all cost using any means. The loser will be indebted to the Liar Game office by a 100 million yen and they will get it at any means even if they sell the person to other foreign countries. Nao was tricked by her rival and she was desperate to get the 100 million yen back from her opponent so she asked for the help of Akiyama Shin'ichi who was imprisoned for swindling. She got through the first round without having to lie and cheat because Akiyama did it for her. If Akiyama was not on Nao's side, she would have been eaten alive by the other participants who would do everything just to get money and to avoid having huge debts. This series will show you that being too honest and too trusting is bad but it will also show you that it's not a that bad to trust people.

I just got annoyed when in an episode, Nao was tricked three times by the same person. How stupid can she get!

7 responses

• Malaysia
9 Oct 11
Liar Game!!! Liar Game is one of my favourite Japanese dramas. It really makes you think and shows you how easily you can be manipulated. Kanzaki Nao is a very honest person. I really laughed when in the opening she said she was called and threatened that her brother would be killed if she didn't deliver a ransom and she ran out of the house in a panic....and remembered that she didn't have a brother. I think that's really the tip of how she wasn't really thinking. But you will see in the later part of the series that she gets better at the game. :) Which episode and season are you on?

• Philippines
10 Oct 11

Yeah! I had a laugh, too when she narrated about that telephone scam. Good thing she realized it sooner.

I'm already on Season 2, episode 7. And yeah, she's getting better I think. She even thought of lying about her flinching when she lies just to win the no-spinning roulette game.


• Philippines
10 Oct 11
I have the impression that this is kind of a must watch thing. The way everyone talks about it, it would appear that I will learn so much lessons from this show. Then maybe, just maybe, out of these viewings I will learn to have a hardened heart that knows how to discern a person who is not truly in need vs the one who truly needs help. Yes, i know that i must find a way to shed off my good amount of stupidity. I really need to, you know.

• Philippines
12 Oct 11
Well, trinidad, if you're into watching subtitled Japanese dramas, then maybe you can enjoy watching this one. If you're like Nao who easily believes people and who easily trust what a person says, then you will easily relate with her.



• Philippines
9 Oct 11
Were you referring to mushroom guy Fukunaga-san? I wanted to strangle him, he keeps shouting.

I had also just finished watching Liar Game, the first season. I had watched it years ago, but decided to watch it again recently because I got bored.

But your picture is of the 2nd season. I have watched some episodes last summer, but not all. Second season is more fun. I have also written a review about it, just last week. So weird finding your discussion here.

http://swirlz.quazen.com/shopping/liar-game-review/

• Philippines
9 Oct 11
Not just Fukunaga-san but also Nao's former teacher. Nao's really incredibly, stupidly too trusting of people. Towards the end of the season I got annoyed with her. .

• Philippines
9 Oct 11
Yes, Akiyama was cute there.

He didn't look as serious. As for Fukunaga-san I had laughed when he changed clothes during game 3 of the first season. I didn't even notice he changed clothes, because his get-up is the same, colorfully printed longsleeve shirt and scarf. I had to rewind the scene to find out if he did. I do love the games! They make me think.

Who would have thought those situations actually have solutions to win and/or draw. Nao-chan I kinda admire. I find her unpredictable. I thought she would give in to anger. I know I would. I'd want those people who betrayed me to get a doze of their own medicine. But she never succumbed. I haven't watched Akiyama (Matsuda Shota) in other shows though.
@
stowyk
You should really try this show. It's really good. Makes you think. It has some moral lessons as well, if you like those kind of shows. It's a Japanese tv drama. Not a reality show. Oh my gosh, if this is a reality show I think I'll go crazy!

• Philippines
9 Oct 11
Not only that, I was surprised when it was shown in one episode Fukunaga's job! He was painting nails!

It suits with his costumes! Or his costumes suit with his job. lol I'm not very good with those kinds of games but I enjoy learning and it's just really amazing! I wonder how genius is the writer of this story!

Well, in Nao's personality, she would never be real angry to a person. She's not just too trusting, she also easily forgives people. Perfect example is her former teacher and Fukunaga. I don't think this can happen in real life, or at least, un-scripted.



• Philippines
10 Oct 11
My friend gave me a copy of this drama as well as the movie (is it a movie or second season). I'm way behind watching it. Maybe I'll start this week? Erika Toda's in this drama right? As well as... Matsuda Shota? Did I got his name right? Lol!!!

• Philippines
12 Oct 11
Yup. Erika Toda plays Kanzaki Nao while Matsuda Shota plays Akiyama Shin'ichi.


• Philippines
10 Oct 11
It is always best to remember that truth is stranger than fiction. I am very simple minded person because i am so very easy to swindle. In other words, i will never do well in a game of that sort. I will surely end up the loser all the time. Seemingly, I have heard of those names before. kind of, through my youngest son's viewings through the internet. I have to admit that i got into lots of problems because I easily pity people who are in tight troubles. It is so hard to learn a lesson for somebody who holds a soft heart.

• Philippines
12 Oct 11
You should keep in mind that everybody lies for their own personal sake. Maybe not all the time, but many times.


• Philippines
2 Dec 12
I have not watched the Liar Game action live but I have read the manga up to the 4th game I guess. The story is really cool as you do not know what to expect at the end. I like the Akiyama Sinichi character in the manga as he seems very helpful. He is like a knight in shining armour of Nao.

• Singapore
19 Oct 11
Is there such a show? IT's interesting and i would love to watch it!! haha

I wanna see how good their lies are and i'm able to learn something from there, apply it in real life.. haha

I guess when someone gets tricked more than once by the same person, it's not that she's stupid, but rather, too smart for her own good as it's easy to lie, but harder to outwit a lier.. haha


• United States
13 Oct 11
I am not one to lie and cheat for anything. If I can't get it doing the "right thing" in the right way...I don't want it. I know how you feel about the person being tricked three times...now I try to be kind but if someone gets me once..that is usually the last time they get me.