Brady Quinn the odd man out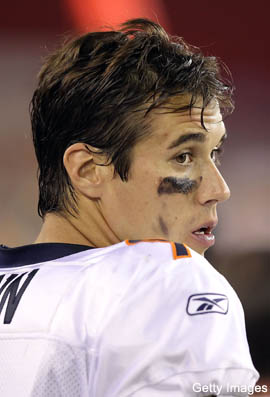 United States
October 10, 2011 5:31pm CST
It is true! being a QB on the Denver Broncos when you also have Kyle Orton and Tim Tebow! The fans want Tebow and they got him yesterday when Orton was not effective! Who will start in two weeks after their bye we'll see. I am pretty sure it won't be Quinn! At least he is being a good boyfriend! His girlfriend Alicia Sarcomne (spelling might be incorrect) torn an achilles tendon while in Toyko yesterday in a gymnastic competition. So Brady has left the Broncos to be with her girlfriend when she has surgery! That is a great thing to hear! I wish more men would do what he is did! One more thing of interest! Brady Quinn's sister Laura is married to Green Bay Packer Linebacker A.J. Hawk! Brady is also an uncle! Last November Laura and A.J. had a baby daughter they named Lennox! Just little trivia for you!
2 responses


• United States
14 Oct 11
Yes that ia right! Brady Quinn has his priorites right! Quinn is setting a good example! This world could use more people like him!

• United States
14 Oct 11
you are welcome! I am happy to share with Mylotters!