Selfishness or just making her to learn more?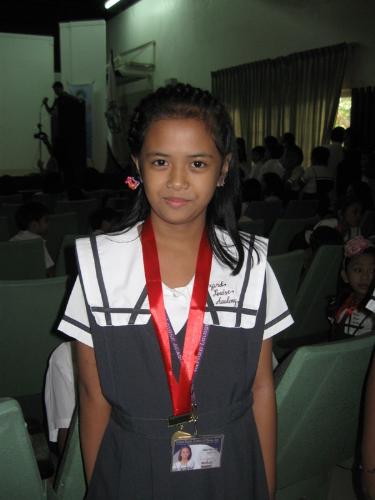 Philippines
October 20, 2011 1:05pm CST
I have a daughter ages 10, in her 4th grade now. It's her examination week and I'm so eager to help her to review her lesson but she insisted not to. She said she can do it alone. I've been her mentor since she started studying and she made it on top 4 overall in grade 3 last year... and I wanted to be her half in her studies untill now but she don't want to. Am I being selfish or just making her to learn more?
8 responses

• Canada
20 Oct 11
Sounds like she has been infected by that fatal disease called independence - just joking. Thanks for sharing the picture by the way she looks so lovely, you have reason to be proud. Seriously, if one can read character from a person face I see a good sense of character and self confidence already developing in her and this might be something to encourage actually. All children want to stretch their wings and do things on their own. I think you can still be there for her. If she fails at something you can make lite of it and say that's the way you learn would you like some help though? Why not let her try on her own. If she does well it is not because she does not need you but because you have taught her the most important lesson of all that she can learn things on her own. It is great to have many not just one but many mentors and teachers in our life but we must also learn if we have to rely only on our own direction (a prayer and maybe the library) we can still learn. God bless you both.

• Philippines
21 Oct 11
Oh yes! I nearly forgot that word "independence"... thanks for reminding *lol. Now I'm more confident to let her go her way but... just at school. She's still my baby and yes again, I am ecouraging her to be an active member of a religious group here in our place because I want her to be close to God, love Him... and learn how God loves us so she will be a good citizen upon growing. Thanks for the wonderful words you've said.

• Canada
21 Oct 11
I think she will always be your baby and now that you have thought about this and taken action God will notice both of you as children too. I like when parents take interest in their children because there are so many orphans in the world both in body and spirit.

• Philippines
20 Oct 11
Your daughter just want to learn in here own without helping others.She want to explore in her own learning,and yes she is wise i think. My sister ,in math subject ask other to help her.Because she don't have more knowedledge to solve it and just ask other to help..

• Philippines
21 Oct 11
Hi,

.Yes , i think she is interested to learn her own,and she just ask if there is things she did not know.And even i ,if someone want to say something and wan to correct or something , i just say to no , i just do it and learn from my own and if there is mistakes i just try to make it right...She isworking hard in her own.

• Canada
20 Oct 11
I understand how much you want to help your daughter and how proud you are of her successes! I have two daughters who are excellent students and they are both now pursuing higher education (one in college, one in university). It's good that you want to be there to help your daughter but I think it's also very good that she wants to study on her own. Many young people do not have the motivation to study alone. My niece is 13. Last year, she had a lot of trouble at school because my sister was getting much too involved in her school work. At 12 years old, my sister was still monitoring all of her homework, checking all her work, making sure everything was done on time, etc. It turned out that my niece became overly stressed and she was doing more work than was expected and in comparison to the other students. My sister, while wanting to help her, was actually pushing her too hard. The teachers cautioned her that my niece needed to learn to be responsible for her own work and her own studying. It was very hard but my sister has backed off and is letting her daughter take responsibility now. Good news is that she is excelling! She made Principal's Honor Roll which means an overall average of 90% or higher. I think it would be very valuable for your daughter if you demonstrate faith and confidence in her by letting her do her studies alone. She needs to learn what to do and how to do it and, also, she will see the results of her own efforts. She can understand that, when she has difficulty, you will be there to help her. She can bring her questions to you or look to you for clarification. On your side, you can still talk to her about what homework she has, which examinations she has, and just make sure she is keeping up with everything. If she knows you are always there to support her, she will come to you when she needs it... and she will also develop very valuable study habits of her own. That's a very good thing!

I wish her good luck in all her examinations!


• Philippines
20 Oct 11
You're right "thinkingoutloud"! Maybe it's time for me to let her drive her own wheels at school. But overall, I will (still) be a guide to her. Anyway, It's nice to see her the way I molded her to be. By the way, it's nice to hear that you have 2 excellent children in higher education now. I hope that my daughter will be like yours, consistent to be her way now until getting a degree. Cheers!

• Canada
23 Oct 11
I'm very blessed. I've never had trouble with either of my girls where school is concerned because they both enjoy it and they both have the drive to do their best. My older daughter is at university, doing a double major in Psychology and Anthropology. My younger is in her first year of college, in Liberal Arts, with her goal being journalism (and probably other forms of writing, if I know her LOL). It does my heart good to see them being focused on their goals.

• United States
20 Oct 11
Hi Llhenni, I really think you have her best interest at heart. Sometime children think they can do things on their own. At the age of 10 I really do feel like you should continue to mentor and monitor her work. It is better to be safe than to be sorry. I wouldn't want her grades to fall because of an honest mistake. Find a way to do it without her knowing. Put your knowlegeable mind to work.

• India
21 Oct 11
Parents are always eager in the study matters of the children and try to develop the education as they are planning in their mind.But children especially who are above average will have their own ideas and plans about study matters.So they will try to get freedom in study matters. When the parents acknowledge the identity of their children and adjust in a positive approach giving proper care in a indirect way all concerns will result in goodness. So parents are not selfish in these matters provided they give sufficient consideration to the child's approach and ideas towards study matters.

• United States
21 Oct 11
You are so fortunate that your daughter is beginning to take responsibility for her own learning. I know how it feels to want to help her do her best, but I have been through this with my son many years ago. This is one thing that his teacher for gifted education stressed. Your student needs to take possession of their own learning and then they can be proud of what they are doing in their school.

• Philippines
21 Oct 11
don't force your daughter to do the things that she doesn't want to. It is useless and pointless because it will only make her resent you. I am a mother, too, and I know that you are only wanting to make sure that your child has the best support she can get from you and that you only want to give her the best. But, know that your daughter is old enough to handle some things on her own. like this one. She will come to you if she needs your help. But now that she is refusing it, don't take it against her. You should be proud of her that she's showing maturity and independence (hard for a mother, I know) but let her. It is the only way you can teach her how to grow up and be strong. If you will always be at her side to help her do things even the tiniest, she will not learn on her own. Let your daughter discover her strengths and even her weaknesses. Let her fall, if she must so that she will know what to do next time. Just be there for her without being too clingy and forceful. teach your daughter to be responsible, she is no longer a baby. You should treat her like a little lady. Give her room to grow. Be proud and be happy that your daughter is trying to be responsible despite of her young age.



• Philippines
21 Oct 11
Hi there Lhenni, I would say,why not let her do it on her own,see whats going to happen if you will allow her to study by herself..but of course you need to be observant especially during her exams,you just need to check if shes really studying..if she can do better or just the same when you are teaching her why not let her do it on her own.. If you see that giving up on her make her fail on the exams better talk to her and let her understand the situation.. Kids nowadays are independent unlike when we were young we cant do things without our parents looking after us or teaching us..Its good to know that she is trying to make it on her own at early age but make sure you'll be there for her what ever happens,your support means a lot to her.. And as to selfishness,I don't think you can call it that,you just want whats best for her, just not try overdoing it..Mothers knows best.. Good luck ..