Still a Three-Cat Household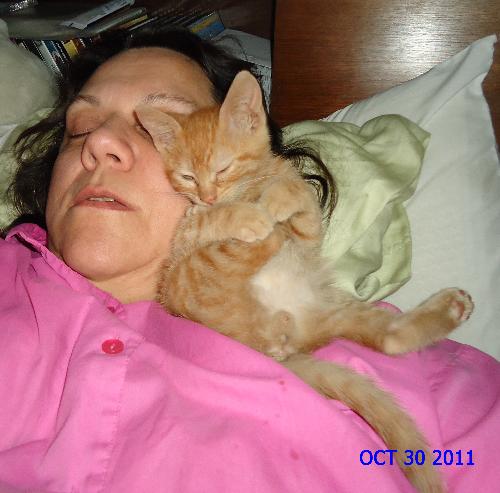 United States
November 5, 2011 11:15am CST
Oliver has been working very hard at trying to stay with our family. He is a very sweet kitty and loves to lay on Mom's chest while I'm trying to work on the computer. He and Chester will often share Mom's shoulder and they are very cute together. Still, I am determined to be a two-cat family! I simply am tired of going through the cat food and kitty litter so quickly. I really cannot afford it. Of course, Oliver is still small and so doesn't eat that much but he will grow and eventually will eat just as much as the others, and then I'll be back to where we were before Smoky left us. I think I just need to pull out all the stops and take him over to the store and find him a home before he worms his little way into my pea-pickin' heart! Wish me luck!
3 responses

• Lippstadt, Germany
5 Nov 11
tee hee Olli knows where its best for him. thats too cute. Wont it break your heart to ger a new home for him?

• United States
6 Nov 11
Not at this point. I find it easier to find homes for my kittens than to have to struggle balancing my budget and being unable to afford food for them. I would really like to be a one-cat household and keep only Chester but Misty has seniority and has been with us the longest so I just feel that it's her house and she's just letting me live here with her. She was here before I was, even, as part of a litter we found on the porch when we bought the place.


• Lippstadt, Germany
6 Nov 11
hi dear alaskanray how absolutely cute. Too bad you cant give Olli just to us cause you know having a cat share the apartment with us, or better, sharing the apartment with the kitty, would be something we both want.

• United States
6 Nov 11
Yah, I know, my friend. Oh, well. C'est la vie!



• Philippines
6 Nov 11
Good luck alaskanray, it doesn't matter how tired you are of going through your cute little cats unless you are enjoy taking care of those cats.I also love cats.

• United States
6 Nov 11
Well, I am a softy from way back and I have to admit that I care about the feral cat population here in this area. I do what I can but there is a limit to what I am able to do. Living on disability is no picnic.


• Philippines
5 Nov 11
yep I guess it's what ever you decide friend cause you know best how you can provide for them the best you can, I wish you luck



• United States
5 Nov 11
Thanks, my friend. It is a problem and the main reason I don't want my daughter bringing these kittens home in the first place. But she knows what a softy I am! I just cannot turn away a helpless critter in need!